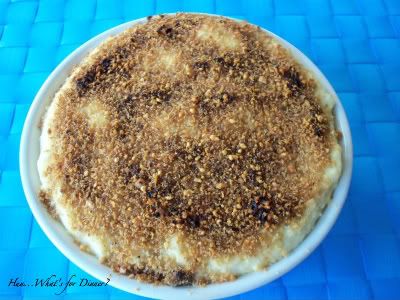 I bet you are all wondering what the heck I'm talking about, right? That's exactly what I thought, when I read the title to this recipe, this past Spring. This recipe was submitted by my friend Elise from
LuvCrumbs
, to the Real Women of Philadelphia contest. This recipe quickly caught the interest of the judges and snagged Elise a spot in the finals. Not only did she make the finals, but her recipe won her the spot as Side Dish Host, over at RWOP. And I can't blame the judges for picking her. This side dish is so different and fabulous! I first had the chance to try the creme brulee in Toronto, at the RWOP Gala. Let me tell you, it was one of my favourite dishes from the night. Elise had mentioned that the Chef had made a few changes to her recipe, so when I found half a head of cauliflower in the back of the fridge that desperately needed to be rescued, I immediately thought of this recipe.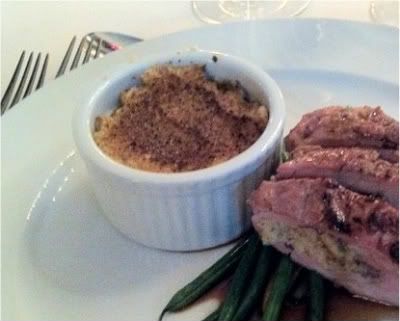 Photo Courtesy of Cathy Bray
Elise was right, the Chef at the Thompson Hotel had modified it, but the original recipe was just as good as what I remembered. I love how quick this comes together and how you can assemble it before hand, waiting until the last minute to broil and crisp the top. The combination of savory cheeses with a hint of sweetness and heat is intoxicating and almost addictive. Since I didn't have individual souffle cups, I made this in a small casserole dish and served it family style. By the end of dinner, there was only a tiny portion left, which I claimed for lunch the next day. It truly is a recipe, that is so unique and creative; I hope you give it a try.
Cauliflower Creme Brulee
Submitted by Elise Copps-Smith via RWOP
Breaking away from boring side dishes can be a challenge, but with this simple spin on a favourite dessert in your recipe arsenal, vegetables will soon be taking centre stage at your dinner table.
1/2 to whole head cauliflower
1 tsp. of butter
1 small onion
1 tbsp. of brown sugar
3 tbsp. of raw brown sugar
1 tbsp. of Parmesan
1/2 cup(s) of Philadelphia cream cheese
1/8 tsp. of cayenne
1/4 tsp. of salt
1/4 tsp. of pepper
Preheat your broiler. (500 degrees)
Depending on the size of your cauliflower, you will need to use between 1/2 and a whole head. Remove the leaves and core, and chop the florets and stalks into small pieces until you have roughly 4 cups. Place 1 tbsp of water and a pinch of salt into a casserole dish, add your cauliflower, and steam in the microwave for 5-6 minutes until tender.
Heat butter in a pan over high heat. Roughly chop onion and add to pan, stirring until covered with melted butter. Reduce heat to med/med-low and add 1 tbsp brown sugar. Stir until combined. Remove onions from heat when they are translucent and lightly browned.
In a small bowl, combine raw brown sugar and Parmesan cheese. Stir until completely mixed.
In a food processor, combine steamed cauliflower, quick caramelized onions, Philadelphia cream cheese, cayenne, salt and pepper. Blend for a few minutes, scraping sides, until mixture becomes a smooth purée.
Divide mixture evenly among 4 ramekins, and smooth the purée to create a flat surface. Sprinkle a generous portion of your sugar/Parmesan mixture onto each serving, coating the cauliflower completely. Give the ramekins a little shake to level out the sugar.
Place under the broiler on a baking sheet for 1-2 minutes until the sugar has created a hard, brown candy coating. Remove from the oven and serve immediately. To prepare this side dish in advance, refrigerate your ramekins after filling them with purée. Right before serving, add the sugar topping and broil. Whether you are making it for a simple supper, or an elegant dinner party, you will be stunned by how easy this recipe is to prepare. With veggies this delicious, who needs dessert?
This post linked to
Friday Favorites
Foodie Friday
Fat Camp Friday
Friday Potluck