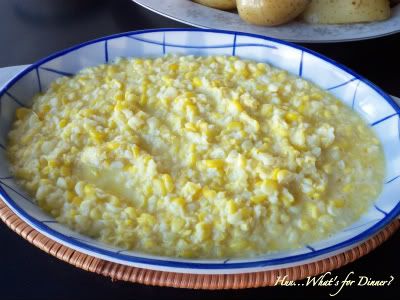 This summer, we decided to buy a huge amount of corn, so we could shuck it and freeze it for winter. There is nothing better than sweet corn, frozen at the peak of summer. As I was talking to some of my girlfriends about the corn, Jeanine from
The Baking Beauties
mentioned that her mother in law made the best creamed corn. Well, she totally peeked my interest and her mother in law was nice enough to share her recipe with me. Let me tell you, this corn is phenomenal. Hubby and the kids practically inhaled the first bit that I made for dinner one night. I love that you can freeze it and it re heats beautifully and tastes delicious.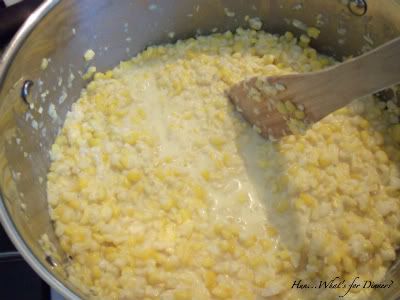 The recipe is super unbelievably easy. And I must say I like this homemade creamed corn better than what we usually buy in a can. There is bigger kernels of corn throughout and it has a wonderfully creamy buttery flavour. Nothing goes better with corn than butter, in my opinion! I froze 2 bags and we had 3 cups to go with our dinner. It's a perfect side dish for those comforting, down home, cold weather dishes.
Frozen Creamed Corn
Submitted by Jeanine via her MIL
printable version
8 cups corn (raw) about 13 cobs
1 1/2 tsp. salt
2 Tbsp. Sugar
1/2 cup Butter (yes butter not margarine)
1/4 – 1/3 cup Whipping Cream
Cut corn off the cob. Scrape cob to get all juice. (I don't cut really deep so there is bits of corn left on the cob when you scape it.)
To cut the corn off the cob I use one a serrated steak knives. To scrape the cob I use a plane knife.
Melt butter in Dutch oven pot, add cream, salt and sugar. Stir to mix, then add cut corn and stir. Heat over medium heat, stirring
occasionally. Be careful not to burn it. Heat till it is bubbling, not boiling, just good and hot.
Plunge pot into sink filled with ice water. Stir & cool till warm. Put in containers or freezer bags and freeze immediately.
I used the small Ziploc Freezer bags and put in about 1 1/4 – 1 1/2 cups. Yield approx. 6 – 7 pkgs.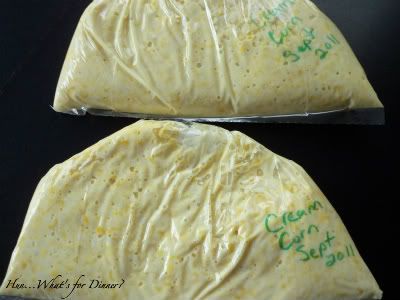 This post linked to
Hearth and Soul
Made it on Monday
These Chicks Cooked
Full Plate Thursday
Turning the Table Thursday
See ya in the Gumbo