I love homemade apple sauce. Well, I love my Mom's homemade apple sauce. I'm not sure how she makes it, but it just comes out so smooth, with the right amount of sweetness. You knew it was a special dinner, when Mom made apple sauce, to go with our pork chops. Now a days, we eat apple sauce more often. I often top my pancakes or waffles with it. Or, I like to top some apple sauce with nice crunchy granola. So, when we came home with tons of apples, from the orchard, I knew I wanted to make some apple sauce, to have on hand, whenever we'd like it.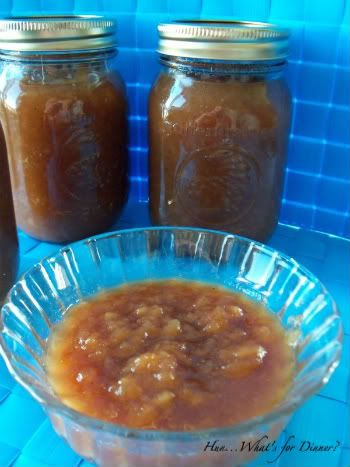 I decided to let the crock pot do all the work with this one. That way I didn't have to babysit the sauce all day. I based the apple sauce on one of my favourite apple pie recipe. I recently started adding vanilla to my apple pie filling and I've just fallen in love. Since my apples were on the tart side, I did have to add quite a bit of sugar; but I will include a base amount of sugar and feel free to add as little, or as much as you'd like. This smooth apple sauce just reminds me of my Mom's and those special Sunday night dinners.
Crock Pot Apple Sauce
printable version
12 large apples, skinned ,cored, and cut in quarters
3 tsp lemon juice
1 1/2 tsp cinnamon
3/4 tsp nutmeg
1/4 tsp ground cloves
2 tsp vanilla
1/4 C brown sugar
1/4 cup water
Place apples in a 6 quart crock pot. Add in lemon juice, water, sugar and spices; stir to coat apple the apples. Cook on low for 6 hours. After 4 hrs of cooking, mash the apples and continue to cook for remainder of cooking time. While hot, place into sterilized jars; leaving 1/2 in head space. Screw on lids and process in hot water for 5 minutes.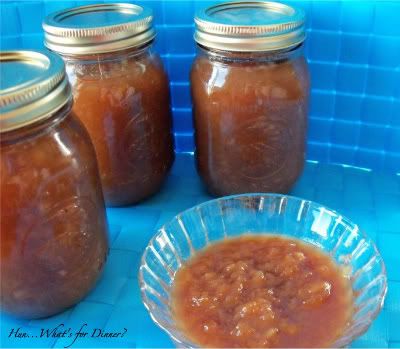 This post linked to
Made it on Monday
Hearth and Soul
These Chicks Cooked
Turning the Table Thursday
Full Plate Thursday
Friday Potluck
Slow Cooker Sunday