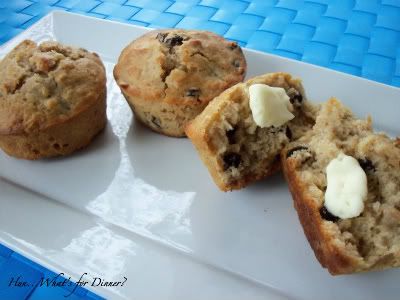 Recently Mr.B brought home a library book titled
The Beeman by Laurie Krebs and Valeria Cis
. It is a story about a little boy whose grandfather is a bee keeper. The book tells about bee keeping, bees and how they make honey. In the story, the boy goes on to tell us about how much he loves the Honey muffins his grandmother makes. To our surprise, there was a recipe for Honey Apple Muffins, on the last page of the book. Mr.B excitedly asked me if we could make these together. So, this past weekend, we got into the kitchen and decided to make a short video for all of you. Enjoy!
While making the muffins, I really didn't know if they'd be any good. I mean the addition of dry cereal into the batter.... plus we substituted Cheerios for the bran cereal. Was it a total disaster? Thankfully it wasn't!! The muffins were actually pretty good. They were moist, with a great warm apple taste. The cereal was a bit odd in it, but that may just be because of the kind we used. Regardless, they were pretty tasty and we will probably make these again..... minus the cereal, LOL.
Grandma's Apple and Honey Muffins
Adapted from The Beeman (children's book)
printable version
2 C flour, sifted
3 tsp baking powder
1 tsp salt
1/2 tsp cinnamon
1/4 tsp nutmeg
1 C whole wheat or bran cereal flakes
1/4 C finely chopped walnuts (optional)
1/2 C raisins
1 C grated apple
2 eggs
2/3 C honey
1/2 C milk
1/4 C vegetable oil
Sift flour with baking soda, salt and spices. Add cereal, walnuts, raisins and apple. Beat eggs well; add honey, milk, and oil. Add liquid mixture all at once to the flour mixture, stirring just to blend. Grease muffin cups and fill 2/3 full. Bake at 400 degrees for 18-20 minutes.
Makes 18 muffins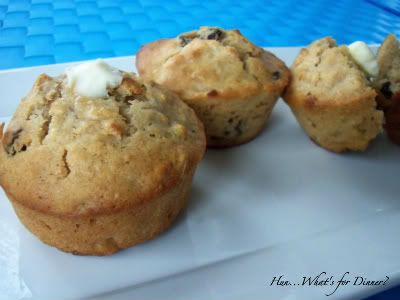 This post linked to
Friday Potluck
Fat Camp Friday
Friday Favorites
Foodie Friday
Bake Bizzy
Sweets for a Saturday