Happy Monday!!
Anyone out there have an ark? It's been raining pretty much since last Wed..... looks like we might have a few rain free days this week. Which would greatly be appreciated, LOL. It's rough on the kids, to be stuck in the house. This past weekend included some baking with the kids, fort making and plenty board games. I'd love to enjoy playing outside more, before the "S" word gets here. Yes, I'm that superstitious... I will not even write the "S" word, LOL.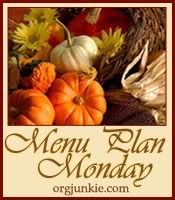 Well, this week should be quiet. I do have a dentist appt for a crown fitting, which I am super nervous for. Mr.B has a field trip to a Ranch on Wed, that he is super excited about. And we still have to go to one last store, in hopes of finding him the Halloween costume of his dreams. Queenie decided to be a Fairy Princess this year (yay I get to do her make up and curl her hair!) and Mr.B has hopes of being a Wizard (white beard and all). I've also started on a 1500 calorie diet, so dinners will be healthier, lower calorie options (with the occasional splurge, here and there). Here are my plans for the week
Head on over to
Orgjunkie.com
, for tons of more great meal plans, for the week!