Happy Monday!
Boy what a beautiful day Sunday was! The sun was shinning, and the temperatures seasonal for a change. We took advantage of it, by going to a near by park and going for a walk in the woods. I just love walking amongst the trees that have started loosing their colourful leaves. The crisp crunch beneath your feet, the crisp fall air and the reds, oranges and yellows just make my soul smile. I wish Fall consisted of more days like that, rather than rainy cold and dreary days.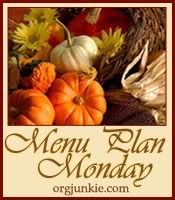 I am super excited today! My Mom is coming to stay for about a week and will be here through Halloween. I haven't seen my parents since the beginning of the Summer, so having Mom stay for a while is going to be great! I also love that we get to treat her to many foods she loves, but rarely eats. My Dad eats very simple foods, so Mom really enjoys the different meals we make when she's here. She's already requested a few dishes and I am more than happy to make them for her. So, here's the plan
Ham, Indian Fry Bread and roast cauliflower/broccoli
Creamed Cauliflower soup with bread machine garlic bread
Porcupine Balls with brown rice and sauteed green beans
Perfect Fall Pork Chops (new recipe)
Homemade Cheese Manicotti with a salad
Rosemary Chicken and Potatoes with Honey Roasted Squash Rings (new recipe)
Leftovers
Head on over to
OrgJunkie.com
, for more meal plans for the week.