Happy Monday!
Well, we are now in October and the start of a new month has also brought the cold weather. We are just getting a glance at what the next few months will bring, LOL. I don't mind one bit, I'll take cold and rainy, over cold and snowy any day, LOL. We are slowly gearing up for the excitement the month of October brings. Next week will be Thanksgiving, here in Canada. Hubby will be working, as usual, so it'll be just me and the kids again this year. Although I'd love to celebrate with the rest of my family, I'm OK with having a small dinner here with the kids. Maybe we'll have a Thanksgiving lunch, rather than dinner, so Hubby can enjoy some of the yumminess. Special occasion lunches seem to be turning into a tradition, LOL.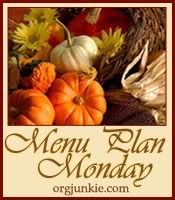 Not a whole lot going on this week. Hubby will be off Wed-Thurs, so we'll take that time to clean out the garage, so we can get one vehicle in there, during the winter. I have a few new recipes planned for the week and am excited about cooking some of our favourite cold weather foods. There is nothing better than a bowl of soup or chili, when it's cold and rainy outside. So here is out menu for the week
Lemon, Broccoli and Chickpea Pasta (new recipe) with garlic bread
Peameal Bacon sandwiches with roasted squash
Potato and Blue Cheese Soup (new recipe) with homemade rolls
Chili with Honey Corn Bread (new recipe)
Chili cheese fries with a salad
Shrimp Creole (new recipe)
leftovers
Head over to
OrgJunkie.com
, for more great meal plans!