I recently decided to take my need to loose weight more seriously. It's not like what we eat is unhealthy, it's just that we love to indulge in a lot of high fat cheeses and cream sauces. Then one day some ladies were talking about
Skinny Taste
, over at
Cooking for your Family
. I was intrigued, so I went to check it out and found a god send. Gina has tons of lower fat, Weight Watcher friendly recipe. I didn't know where to begin. Then this recipe caught my eye and I knew that we would all enjoy this. I am always amazed that the kids will sit down and eat shrimp without a complaint.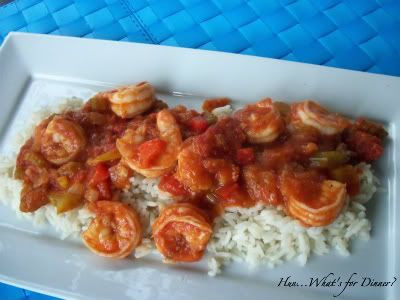 I made a few modifications to the recipe. First I only used a small amount of Cajun seasoning in the sauce and to season the shrimp. The kids aren't very fond of spicy food, so I wanted them to enjoy this dish as well. Second, I used a 14.5 ounce can of diced tomatoes with peppers, onion and celery; which I pureed in my food processor, instead of tomato sauce. Once the sauce had reduced and the shrimp were cooked, I set some aside for the kids, then added some additional Cajun spice and the hot sauce. The kids servings was mild enough for them, while the remainder was nice and spicy for the adults. I do have to be honest and say that we ate everything in one sitting. It was fabulous! The sweet shrimp tamed some of the spiciness of the sauce. This dish was so full of amazing flavour, we didn't even feel like it was diet food!
Shrimp Creole
Adapted from Skinny Taste
printable version
2 tsp olive oil
1 medium onion, chopped
1/2 cup green bell pepper, chopped
1/2 cup celery, chopped
2 cloves of garlic, minced
14-ounce can of diced tomatoes
8 oz tomato sauce
1/4 teaspoon of cayenne pepper
1/4 tsp Cajun Seasoning such as Slap Your Mama (more or less to taste)
1 bay leaf
1 tbsp of all purpose flour (leave out for gluten-free)
2 tbsp water
1 lb of large shrimp, peeled and deveined
2 tsp Worcestershire sauce
2 tsp hot sauce, to taste
1 medium scallion, sliced
2 tbsp fresh parsley, chopped
salt to taste
In a large skillet heat the olive oil over medium heat. Add the chopped onion, green bell pepper, garlic and celery and saute until tender. Add tomatoes and tomato sauce, cayenne pepper, Cajun spice, bay leaf and bring to a boil. Cover and reduce heat to low and simmer 20-30 minutes.
Make a slurry of the flour and water and stir into the tomato mixture. Continue cooking for another 5 minutes. Lightly season the shrimp with the Cajun seasoning and add immediately to the tomato mixture. Add Worcestershire sauce and hot sauce; stir together. Cook for another 5 to 6 minutes, or until shrimp is opaque and cooked through, adjust salt if needed.
Add chopped green onion and parsley and serve
This post linked to
Hearth and Soul
Made it on Monday
These Chicks Cooked
Full Plate Thursday
Turning the Table Thursday