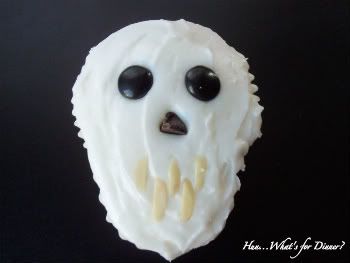 Halloween is in less than 3 weeks and I've been getting us into the spirit with some fun Halloween themed cupcakes. I plan on posting a Halloween inspired cupcake, every Tuesday, until Halloween. The kids are loving it, and so are the neighbours, since I love to share my creations. These skull cupcakes are a combination of fun and creepiness. Slightly spooky, but too yummy to pass up. The perfect Halloween goody.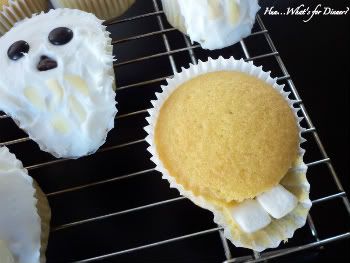 These cupcakes are so simple to make. I first saw them on the Family Fun website. I was so curious to see how they had extended the cupcake, to make the jaw of the skull.The original recipe called for half of a large marshmallow, but I only had mini ones, so I used two (end to end). Once frosted, they really give these cupcakes a jaw like shape. The kids thought they were super cool, as did Hubby. (And it's hard to impress him with cupcakes, since he's not a big fan of them). I made a homemade white icing, so I will include the recipe for that as well.
Skull Cupcakes
Adapted from Family Fun Magazine
12 marshmallows
Confectioners' sugar
24 unfrosted cupcakes (white or yellow works best)
White frosting
Junior Mints, chocolate chips, and slivered almonds
Cut the marshmallows in half widthwise using kitchen shears dipped in confectioners' sugar (this keeps them from sticking).
Sweet Skull - Step 2 Carefully pull each cupcake liner partially away from the cake and tuck half a marshmallow between the paper and the cupcake to create the skull's jaw.
Frost each cupcake and marshmallow, then add Junior Mints with white frosting dots for eyes, a chocolate chip nose, and slivered almond teeth.
White Frosting
1/3 C shortening
1 tsp almond extract
2 C powdered sugar
2-3 Tbs half and half
Mix the shortening with the almond extract and powdered sugar, until well combined. Thin to desired consistency with half and half; starting with 2 Tbs and adding more if needed.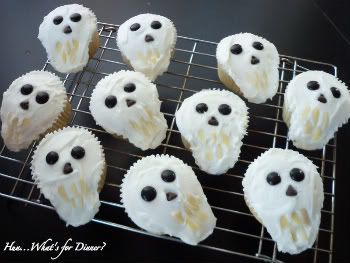 This post linked to
Make a Food-'e'-Friend Monday
Delicious Dishes
Cupcake Tuesday
Tasty Tuesday
Made it on Monday
These Chicks Cooked
Sweets for a Saturday
Bake with Bizzy
Foodie Friends Friday