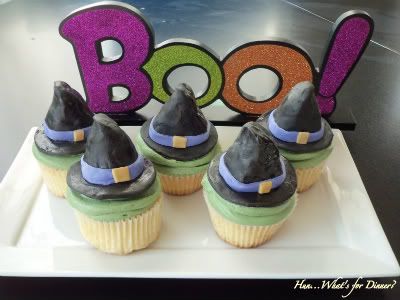 This week's Halloween themed cupcakes are some of my favourites, by far. I just love how beautifully and elegant they turned out. When I had planned these out in my head, they looked no where as impressive as they have turned out, LOL. When I think Halloween, I think witches; so I knew these would be a perfect way to celebrate one of our favourite holidays.
When thinking of how to make the hats, many ideas came to mind. All fondant, molding chocolate, mini sugar cones. Since I didn't want a big ole honkin' piece of fondant on top of the cupcakes, I decided to go with some Rice Krispie Treats, that I made then shaped into small cones. I let them set up over night and covered them with fondant in the morning. One good thing about Hubby making custom cakes, is that there is always fondant available. And I lucked out, in having the perfect shade of 'witch' green coloring gel, to add to the frosting. My neighbour and good friend was over the moon, when I brought her family some and said they were ALMOST too beautiful to eat. I agree, they are almost too beautiful to eat, but we ate them anyway, LOL.
Witch's Hat Cupcakes
1 box French Vanilla cake mix
3 eggs
1/3 C vegetable oil
1/2 C vanilla yogurt
3/4 C milk
Butter Cream Frosting
1 lb butter (4 sticks)
1 bag (1 kg) powdered sugar
4 Tbs vanilla
4 tbs water
juniper green Wilton colour gel
Rice Krispies Square
3 Tbs butter or margarine
1 bag large marshmallows or 4 C mini marshmallows
6 C Rice Krispies cereal
Assembly
Black fondant
purple fondant
white fondant
brown Wilton colour gel
yellow Wilton colour gel
For the cupcakes:
In your mixer bowl, add cake mix, eggs, milk, oil and sour cream. Mix at low speed until incorporated. Beat at medium speed for 3 minutes. Line muffin tins with paper liners and fill them 2/3 full with the batter. Bake at 350 degrees, for 18-20 minutes. Cool completely.
For Butter Cream:
Beat softened butter until light and fluffy. Slowly add powdered sugar, 1 C at a time. Add in vanilla, water and a bit of the juniper green colour gel, and beat at high speed for 3-5 minutes; until fluffy. Store covered, until ready to use.
Rice Krispie Treats:
In a large microwave safe bowl, heat butter and marshmallows for 3 minutes, stirring after 2 minutes. Stir until smooth. Add in rice cereal and mix to coat evenly. Lightly grease a 9x13 inch baking dish with margarine. With buttered hands, press cereal mixture evenly into baking dish. Let cool completely. Once cooled and set, cut into 24 equal squares. Take each square and press it together to form a small cone. Let set for a few hours, to over night.
Assembly:
Lightly sprinkle a clean surface with powdered sugar and roll out some of the black fondant to 1/8 inch thickness. Using a 2 1/2 inch round cutter, cut out 48 circles. Take half of the circles and cover the rice cereal cones (to the bottom, but not covering the bottom). Lightly brush the remaining 24 circles with a damp brush. Gently press the fondant covered cones onto the circles, making sure they are centered. Set the hats aside.
Lightly sprinkle a clean surface with powdered sugar and roll out some purple fondant, to 1/8 inch thick. Cut into 1/3 inch wide strips. Lightly brush one side of the strips with a damp brush and wrap around the base of the cone, so that it lays flush with the brim.
Colour some white fondant with brown and yellow, to achieve a golden copper colour. Roll out to 1/8 thickness and cut into 24- 1/4 inch squares. Brush one side of each square with a damp brush and gently adhere to the center of the purple strip.
Fill a piping bag, fitted with a large tip, with the butter cream; or use a large zip top bag and cut a large hole in one corner. Pipe frosting in a circular motion, starting from the outer edge, to the center of each cupcake. Place a witch's hat on top of each frosted cupcake.
This post linked to
Tasty Tuesday
Cupcake Tuesday
Delicious Dishes
What's Cooking Wednesday
Cast Party Wednesday