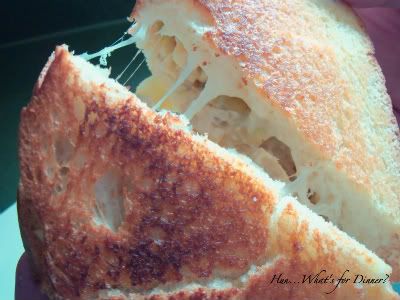 This past summer, I was lucky enough to win an awesome cookbook, in a giveaway. I totally knew that my family would love
Grilled Cheese, Please!
And did we!! The first recipe we decided to try was this Artichoke Dip grilled cheese. We are absolutely crazy for artichoke dip and the thought of it sandwiched between two slices of toasty bread, made both me and Hubby drool, LOL. I mean take one of our favourite appetizers and put it together with one of our favourite sandwiches and it's a home run!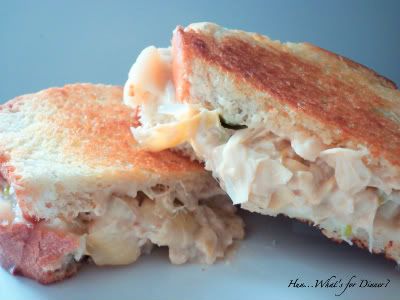 This grilled cheese was over the top. It was ooey, gooey and really did taste like artichoke dip. The tangy cheese was perfect with the creamy artichoke filling. And the sourdough bread, just rounded the flavours out, wonderfully. We did think it was a bit tart, so I'd suggest using one can of artichoke hearts in water and 1 jar of marinated artichoke hearts.
Artichoke Dip Grilled Cheese
Adapted from grilled cheese, please! by Laura Werlin
printable version
2 (6-ounce) jars marinated artichokes, drained and coarsely chopped
2 Tbs mayonnaise
1 tsp Worcestershire sauce
1/2 tsp hot sauce, or to your taste
1/2 tsp garlic powder
4 scallions (white and tender green parts), finely chopped
2 ounces Pecorino Romano cheese, coarsely crumbled (or use Parmigiano-Reggiano)
4 (4-inch-square) pieces focaccia, split horizontally (or use sourdough or Italian bread)
8 ounces fontina cheese, coarsely grated (or use Monterey Jack or Havarti)
In a medium bowl, mix together the artichokes, mayonnaise, Worcestershire sauce, hot sauce, garlic powder, scallions and Pecorino Romano.
To assemble:
Place 4 slices of focaccia on your work surface, cut side up. (if your focaccia is especially thick- more than 3 inches- pinch out a small amount of the soft centers to create a better bread-to-filling ratio.) Spread the artichoke mixture on the bread. Distribute the fontina and top with the remaining focaccia slices, cut side down.
For stove top method:
Heat a large nonstick skillet, over medium heat for 2 minutes. Put the sandwiches into the pan, cover, and cook for 3 to 4 minutes, until the undersides are golden brown. (Watch carefully, because the high oil content in focaccia can make the bread turn from golden to blackened quickly.) Turn the sandwiches, pressing each one firmly with a spatula to compress the filling slightly. Cover and cook for 3 to 4 minutes, until the undersides are well browned. Remove the cover, turn the sandwiches once more and press firmly with the spatula once again. Cook for 1 minute, or until the cheese has melted completely. (You might need to peek inside, to make sure.) Remove from the pan and let cook for 5 minutes. Cut in half and serve.
For sandwich maker method:
Preheat the sandwich maker. Follow directions or assembly above. Cook according to manufacturer's instructions.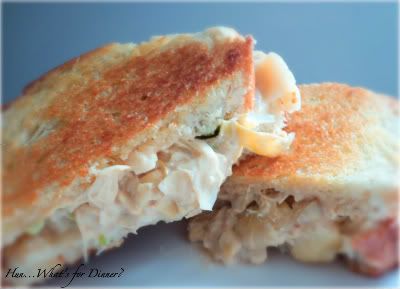 this post linked to
Full Plate Thursday
Made it on Monday
These Chicks Cooked
Turning the Table Thursday