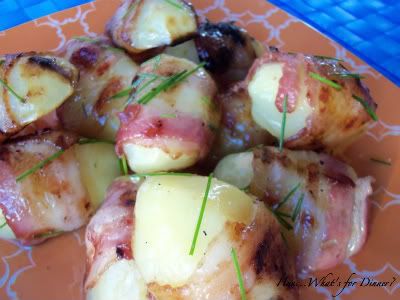 I have to tell you straight up that these potatoes are amazing!! Just thinking about them, while I type up this post, is making my mouth water. I made these potatoes a few months ago and totally forgot to post the recipe. While browsing through my photos, I saw these and just had to share them with you. I found this recipe on the Food Network website. I just love browsing the recipes over there, since there is such a huge variety of them to choose from. These quickly caught my eye, since we are all big bacon and potato fans.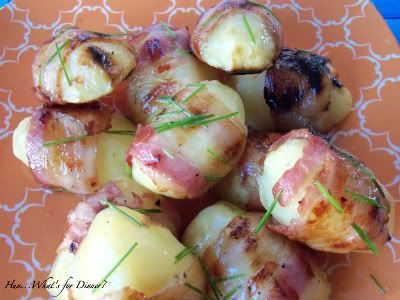 I was intrigued that these were tossed in a sweet honey scallion sauce. We all know that sweet and salty are an awesome combination, so I knew that we'd probably love these. I didn't, however, think they would be so addictive, LOL. Even though I was full, it didn't stop me from snacking on some of the remaining potatoes, as I tidied up the dinner dishes. I just loved the combination of the creamy potato, salty smoky bacon and sweet honey. The only thing I changed was to use chives, rather than scallions. This fantastic and easy side dish would knock the socks off any dinner guest!
Bacon Wrapped Potatoes with Honey Scallion Sauce
Adapted from Aaron McCargo, Jr. and Food Network
printable version
2 large Idaho potatoes
Canola oil, for frying (about 2 cups)
8 slices apple wood smoked bacon, cut in 1/2 vertically
16 toothpicks
1/4 cup softened butter
1/4 cup honey
1/2 teaspoon cracked black pepper
2 tablespoons chopped scallions
1 teaspoon chopped fresh parsley leaves
1. Cut each potato into 8 wedges and parboil until fork tender.
2. In a preheated large saute pan, heat oil on medium-high heat. Wrap each potato wedge with 1 strip of bacon and secure with 1 toothpick on each end. Pan-fry in oil until bacon and potato are golden brown, approximately 8 to 10 minutes, turning frequently with tongs to brown all sides evenly. Remove and drain on paper towels.
3. Meanwhile, in a medium bowl, mix butter, honey, black pepper, scallions and parsley. Stir with a spoon until fully mixed.
4. Toss potatoes in the glaze. Remove toothpicks and serve.
Food Network Kitchens have not tested this recipe and therefore cannot make representation as to the results.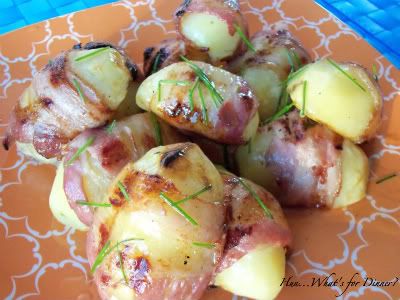 This post linked to
Hearth and Soul
Tasty Tuesday
Delicious Dishes
See ya in the Gumbo