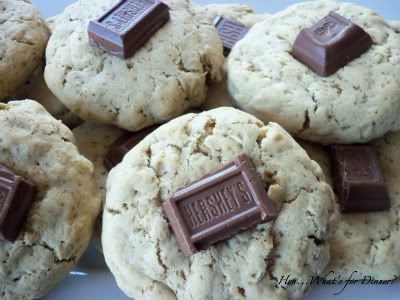 I don't know about you, but every year after Halloween, I feel compelled to get the Halloween candy out of my reach. I have a gigantic sweet tooth and all the candy that results from Trick-or-Treating can be pretty dangerous. So, every year I try to find new ways to use up the candy. Especially that yummy, yummy chocolate! Cookies and brownies seem to be the easiest route to go, when adding chocolate bars or candy, into them. I've tried a few recipes, and have had some successes, but others were not what I expected. So this year, I decided to go with a more traditional type of cookie. I took my chocolate chip cookie recipe and made a few modifications. The results are quite lovely and the cookies are pretty yummy too.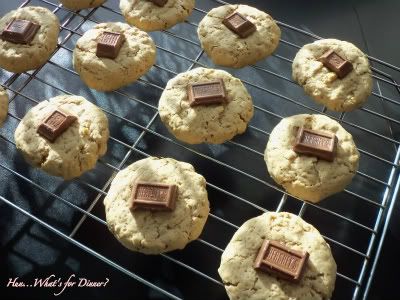 I've seen cookies with pieces of chocolate placed on top and always think of how pretty they look. So, I decided to top my cookies with pieces of chocolate, rather than incorporate the chocolate inside. These remind me of cookies my Mom use to make when we were growing up. It was a chocolate chip base, without chocolate, but with nice sweet shredded coconut. To make these cookies a bit more hearty, I threw in some large flake oats. The result and sweet, chewy, nutty, chocolaty goodness.
Candy Bar Cookies
printable version
1 C butter, softened
1 C packed brown sugar
1 egg
1 vanilla
2 cups all-purpose flour
1 teaspoon baking soda
1/2 teaspoon salt
1 C quick-cooking oats
1/2 C flaked coconut
9 treat size Hershey chocolate bars, into 36 pieces (I used a combination of almond and milk chocolate bars)

In a large bowl, cream butter and sugar until light and fluffy. Beat in egg and vanilla. Combine the flour, baking soda and salt; gradually add to creamed mixture and mix well. Beat in oats and coconut.

Roll into 1-in. balls. Place 2 in. apart on ungreased baking sheets; flatten slightly. Bake at 350° for 10-12 minutes or until lightly browned.

Break each candy bar into 4 pieces; press a chocolate piece into the center of each warm cookie. Remove to wire racks.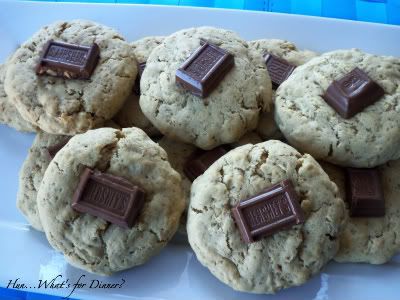 This post linked to
Foodie Friday
Friday Favorites
Friday Potluck
Sweets for a Saturday
Bake with Bizzy