Being a Mom of two kids, who seem to have more energy than possible, I've come to appreciate what is know as one pot cooking. I love when I can find recipes all made in one pot. If there is one thing I'm not quite fond of, it's cleaning up after dinner, when I can be spending time with the kids. With Hubby working evenings, most nights, I often find myself playing single parent at dinner. So, when I can find a dish that uses one pot, instead of two or three, I'm happy.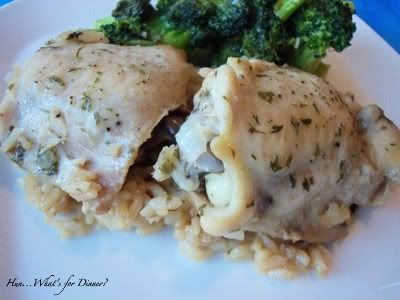 I found this recipe while browsing the Internet for chicken thigh recipes. I love chicken thigh, finding they have so much flavour, but I often do not know what to do with them. So, when I saw a chicken and rice recipe that had honey and lemon in it, I was very curious to see how it would turn out. Let me tell you, I
LOVED
this dish. It was salty and sweet all at the same time. The flavours balanced out perfectly, the chicken was tender and the rice was cooked to perfection. I really had to hold myself back and only have one serving of this, LOL. The kids also loved this dish, which they dubbed sweet and salty rice. The bonus was that there was only one pot, to clean up!
(Well, acutally I did use a second skillet to sautee my broccoli, but you could throw it right in with the rice and it will be perfectly cooked by the time the rice is tender)
Chicken Thighs and Rice with Honey Lemon
Adapted from Spark Recipes
printable version
2 tbs lemon juice
1 (14 oz) can chicken broth
2 tbs honey
2 tbs soy sauce
1 tsp olive oil
1 medium onion - chopped
1 cup long grain rice - uncooked
1/2 tsp black pepper
1 tbs parsley
8 skinless chicken thighs
In a large skillet with tight fitting lid heat olive oil and brown chicken thighs.
Remove thighs when browned and add onion.
Saute until onion is soft.
Add lemon juice, chicken broth, honey, soy sauce, black pepper, parsley, and rice. Stir to combine.
Add browned chicken thighs on top.
Cover and simmer for about 30 minutes or until chicken is done and liquid is absorbed.
Number of Servings: 4
This post linked to
Hearth and Soul
See ya in the Gumbo
Tasty Tuesday
Delicious Dishes