When I married my husband, part of me thought I would be treated to gourmet meals every night. Hubby being a Chef, meant I would never have to cook; right?? Well, I quickly found out that I would spend many lonely nights eating alone and that the last thing Hubby wanted to do, after working 16 hrs in the kitchen, was to come home and cook. Talk about a buzz kill, LOL. So, I am the one who cooks the majority of the meals in the house. About once or twice a month, Hubby treats us and makes dinner, on his day off. I have a love hate relationship with those nights. On one hand, I don't have to make dinner, but on the other, I have to clean up after a man who is used to having others clean up after him. Some nights, it isn't pretty....
This bruschetta is one of my favourites, that Hubby makes. I just love the fresh tomatoes, seasoned with herbs and sweet balsamic vinegar. Paired with savoury garlic bread and salty cheese. It really is sensational. The kids really enjoy helping Daddy make this, and in turn love to eat it too. It's a great way to get them to eat flavours they normally wouldn't. This is the perfect start, or side, to a nice pasta dinner.
Hubby's Bruschetta
printable version
3 large tomatoes, chopped
1 onion, diced
1 Tbs chopped garlic
1/2 tsp salt
1/4 tsp black pepper
1 tsp dried basil
1/2 tsp oregano
1 Tbs parsley
2 Tbs olive oil
2 Tbs balsamic vinegar
1 large loaf of garlic bread
2-3 C marbled Cheddar
In a bowl, mix the tomato, onion, garlic, salt, pepper, basil, oregano and parsley. Drizzle with olive oil and balsamic vinegar and toss to combine. Let sit 10 minutes, so the flavours combine.
Preheat oven to 350 degrees. Split open the garlic loaf and place on a rimmed baking sheet. Top each half with the tomato mixture. Sprinkle the shredded cheese (2 or 3 C, depending on your preference) over the tomato mixture.
Bake for 20 minutes, or until tomato mixture is heated through and cheese is melted. Cut into 1 1/2 inch slices and serve.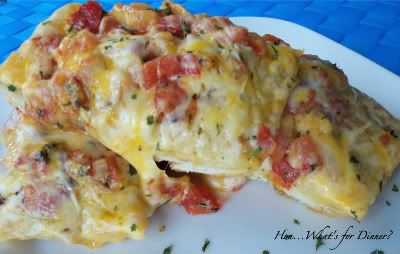 This post linked to
Made it on Monday
These Chicks Cooked
Full Plate Thursday
Turning the Table Thursday