Happy Monday,
How was your weekend. Ours started off great and ended not so good, LOL. On Friday the kids and I took some blankets and pillows and headed to Mr.B's school, for Family Pizza and a Movie night. We had fun watching Toy Story 3 in the school gym. It was a bit chaotic at first, but we had tons of fun. The weather was beautiful all weekend and it seems to have followed us, through to today. The only bad part of the weekend was when I accidentally spilled a glass of water onto my laptop. Yup, I did the worst possible thing.... water all over the keyboard. I'm currently on Hubby's laptop, while mine dries and hopefully it will be operational soon. So, I may not post as often this week, since all my photos are on my laptop :o(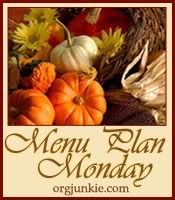 This week is going to be nice and quiet, which is good, because this time change has us all a bit cranky. Mr.B was awake at 6am, this morning. I'm hoping the kids get a hang of the time change soon, LOL. Since things will be low key, I'm thinking of trying a few new recipes, this week. Here's the plan (in no particular order)
Doritos Meatloaf (new recipe) with mashed potatoes and corn on the cob
Home Style Turkey and Potato Bake (new recipe)
Filipino BBQ Pork Skewers (new recipe) with slaw and baked beans
Pumpkin Waffles with fresh fruit salad
Celery Root Soup (new recipe) with bread machine garlic bread
Shrimp Parmesan with couscous and a salad
leftovers
Don't forget to head over to
Org Junkie
, for more great meal plans!!