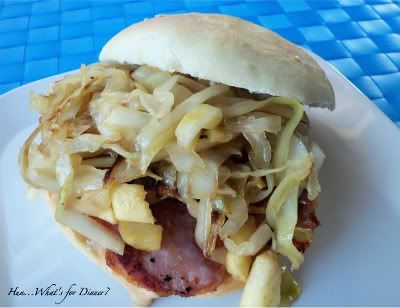 One thing I missed terribly, while we were living in the U.S, was peameal bacon. It basically is a cured pork loin, rolled in corn/pea meal. Canadians love it!! Fried or grilled, you can be sure you'll find peameal bacon sandwiches at many events. My Mom would buy peameal, every now and then, to serve with our Sunday morning breakfasts. It wasn't until I was a teenager, that I had the opportunity to have peameal in a sandwich. Since then, if I see it on the menu, you can bet I'll be ordering it, LOL.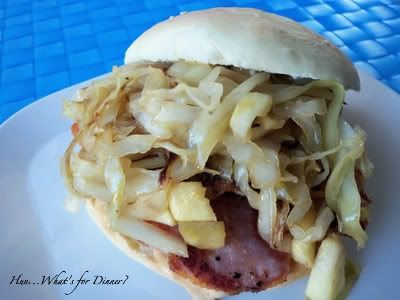 Pork seems to be one of my great loves. I mean there are so many different cuts of pork; ham, bacon, back bacon, peameal bacon. I just seem to be drawn to the cured, salty, sometimes smoky cuts of meat. I prefer grilling the peameal, rather than frying, since it cuts down on the extra fat. Peameal is a pretty lean meat, so if I can skip frying it in some sort of fat, I'm all for it. Whenever we can find a good deal on peameal, you can bet we'll be having sandwiches for dinner. The whole family seems to share a love for them. And who can blame them. This time I decided to make some sort of braised cabbage to put over the peameal. I loved the crunch of the sweet and tangy cabbage and apples. It added a wonderful depth of flavour to the sandwiches.
Peameal Bacon Sandwiches with Braised Cabbage and Apples
printable version
1 lb peameal bacon slices (cured pork loin rolled in pea meal)
1/2 small cabbage, finely chopped
1 large Red or Golden Delicious apple, peeled cored and chopped
2 Tbs butter
2 Tbs apple cider vinegar
1 Tbs brown sugar
pinch of salt and pepper
6 sandwich rolls, or hamburger buns
Thousand Island Dressing
1/2 C mayonnaise
1/3 C ketchup
3 Tbs sweet relish
1 clove garlic, minced
2 tsp Dijon mustard
3/4 tsp salt
1/2 tsp paprika
1/4 tsp freshly ground black pepper
Whisk all ingredients in a medium bowl, to blend.
Preheat grill over medium heat. Lightly grease grill plates and grill peameal, for 3-5 minutes on each side; until the meat is cooked through and lightly browned. Preheat a large saute pan over medium heat. Add butter and cabbage. Cook until cabbage begins to soften; about 5 minutes. Add in apple cider vinegar, brown sugar and apples. Season with salt and pepper and cook until apples are tender; about 4-5 minutes.
To assemble:
Slather bottoms of buns with Thousand Island dressing. Place four pieces of peameal on the slathered buns. Top with desired amount of warm slaw, followed by the top buns.
This post linked to
What's Cooking Wednesday
Full Plate Thursday
These Chicks Cooked