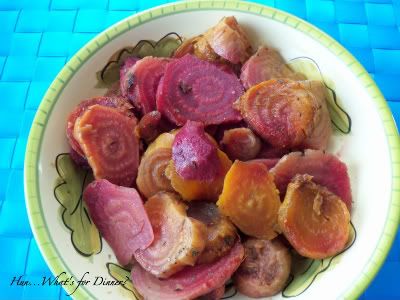 I recently was lucky enough to receive a copy Betty's Crocker's New Edition Big Red Cookbook. While reading through it the other night, I bookmarked many recipes that caught my eye. This was one of them. During a recent trip to the Farmer's Market, I stumbled upon a farmer that had some white, golden and purple beets and I was so intrigued that I had to buy them. I had no idea what to do with them though. The only way I had prepared beets, was to pickle them, every fall. So, I was super excited to find a roasted beet recipe in the Betty Crocker cookbook. It had all the flavours that I love and the combination of the sweet beets with the slightly sour dressing made me salivate.
Having never had beets anyway but pickled, I was a bit worried that I wouldn't enjoy these. The roasting of the beets just intensified the sweet butteriness of the beets. The dressing coats the beets, adding a great bitter contrast and amazing flavour. I love that the beets didn't loose their colour, while roasting, so the just pop off the plate, creating a beautiful side dish. This recipe couldn't be easier, yet is full of flavour and would be a perfect side to any meal.
Roasted Beets
Adapted from Betty Crocker's 2011 Big Red Book
printable version
2 lb small beets (1 1/2 to 2 inch)
1/2 tsp salt
1/4 tsp coarse ground pepper
2 Tbs regular olive oil
2 Tbs chopped fresh basil leaves
1 Tbs balsamic vinegar
Heat oven to 425 degrees. Cut off all but 2 inches of beet tops. Wash beets; leave whole with root ends attached. Place beets in an ungreased 13x9-inch pan. Sprinkle with salt and pepper. Drizzle with oil.
Roast uncovered about 40 minutes or until beets are tender. Let beets cool until easy to handle, about 30 minutes. Peel beets and cut off root ends; cut beets into 1/2 inch slices.
In a medium bowl, toss beets, basil and vinegar. Serve warm or at room temperature.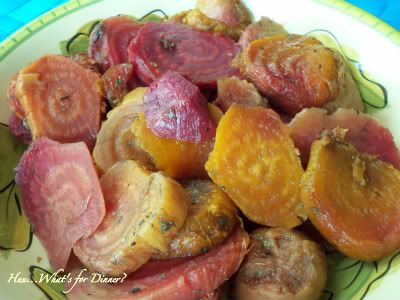 This post linked to
These Chicks Cooked
Made it on Monday
Full Plate Thursday
See ya in the Gumbo