***Giveaway is now closed***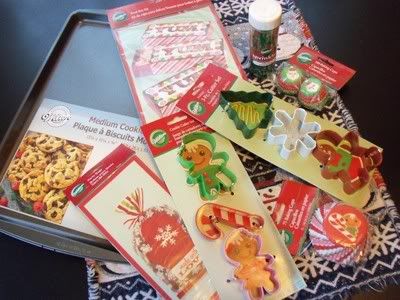 When I decided to take this blog to Facebook, I was a bit nervous and apprehensive. What if no one was interested in what a Stay at Home Mom of 2 was cooking during the day? What if they thought I was a big joke and my food was too? I never in my life thought I would be at 1000 'likes' on Facebook in such a short time. I was sure it would take at least a year and I cannot say how excited I am about it. I just wanted to say a big THANK YOU, to everyone who takes the time to visit Hun...What's for Dinner?, either here, or on Facebook. Without you, this culinary journey wouldn't mean as much. So, as a thank you, I'd like to give one of you the chance to win a little something, from me. Baking is my passion, so I thought a giveaway full of cute Christmas themed baking goodies would be the way to go. Here's what the winner will be getting

a medium sized Wilton cookie pan
2 sets of 3 Christmas themed Wilton cookie cutters (I especially love the gingerbread boy and girl with a bite missing, LOL)
100 large Wilton cupcake liners and 100 Wilton mini cupcake liners
a set of 3 Wilton goodie boxes and a set of 20 Wilton goodie bags
Holly mix decorations and red/green jimmies (not shown)
All you need to do is leave me a comment here (on my blog), telling me what your favourite Christmas treat is.
Want extra entries? Leave me a comment for each of the following you do, and it will count as another entry
Follow Hun...What's for Dinner? through GFC (by clicking JOIN in the right side bar), or e mail subscription ( also found in the right side bar)
Tweet about this post using the following text " @HunWFD is celebrating 1000 'likes' on Facebook, with a #Holiday #baking themed #giveaway!! http://tinyurl.com/6o88su8"

Blog about this giveaway, or share it on Facebook
Good luck to everyone and I will be drawing a winner next Thursday Dec 15.