Merry Christmas Everyone!!
Well OK, Christmas was a few days ago, but with all the excitement, I didn't have time to wish all of you a Merry Christmas! Since we were celebrating at my parent's this year, Mom decided that we should also celebrate my 34th birthday; which happens to be today!.
Growing up, my Mom would always make her wonderful Buche de Noel, for us to eat after our Reveillon. Reveillon means 'let us wake up', which is a French Canadian Christmas celebration. We celebrate the coming of Christ, with a fabulous feast at midnight, on Christmas Eve/Day. Buche de Noel was always a mandatory dessert, but as we got older, most of the family lost their interest in sweets. So now, Mom doesn't make our Yule Log Cake, except if I am lucky enough to join them for Christmas. It has turned into my birthday cake, which is fine with me.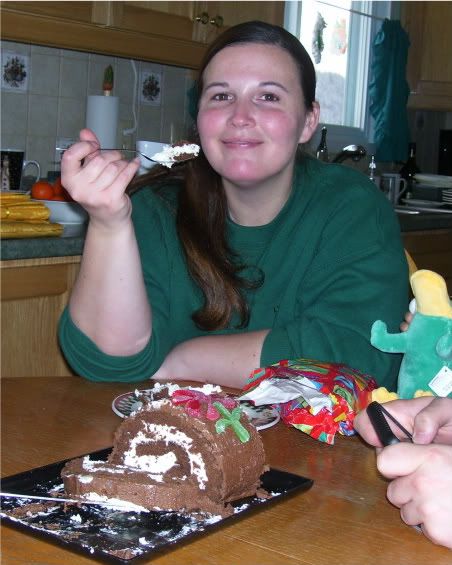 If you've never had yule log cake, you are really missing out on something spectacular. Not only does it look stunning, it tastes just as good. A moist chocolate sponge cake topped with slightly sweetened whipped cream, is rolled into the shape of a log. There are many versions, white sponge, ice cream; but I am partial to the one Mom makes every year.
Buche de Noel- Christmas Yule Log
Cake:
2/3C flour
1/4 tsp baking soda
1/4 tsp salt
4 eggs
1C sugar
2 Tbs water
1/4 C unsweetened chocolate, melted
Filling:
1 1/2 C of heavy whipping cream
3 Tbs confectioners sugar
1/2 tsp vanilla
Grease and line, a jelly roll pan, with waxed paper. Preheat oven to 350 degrees.
Combine flour, baking soda and salt in a small bowl. In a large bowl, beat eggs at high speed until light in color, about 5 minutes. Gradually add sugar, beating until thick. Blend in water and melted chocolate. Fold in dry ingredients, thoroughly. Spread in prepared jelly roll pan and bake for 15 to 17 minutes, or until cake springs back when lightly touched. Loosen edges and turn cake out immediately onto a large tea towel, generously dusted with confectioners sugar. Remove wax paper and trim any crisp edges.
Beginning with the narrow end, roll up cake, with towel loosely. Cool slightly. Whip 1 1/2 C heavy cream until soft peaks form. Add confectioners sugar and vanilla and beat until stiff. Unroll cooled cake and spread evenly with sweetened whipped cream. Re roll cake and even out the ends, by removing a tiny slice of cake. Frost cake with chocolate frosting and decorate with mint leaf candies and cinnamon candies. Refrigerate until serving.
This post linked to
These Chicks Cooked
Full Plate Thursday
Turning the Table Thursday
Creative Thursday
Bake with Bizzy
Sweets for a Saturday