I cannot say enough, how happy I am to have to cold weather back. Although I'm not a big fan of walking to and from school in the snow, I LOVE to make and eat soup. I love sitting down to a comforting bowl of soup, on a cold snowy day. It just warms you up from the inside and soothes any bad mood. Plus, you can take just about anything and turn it into soup, so it's really hard to get bored of it.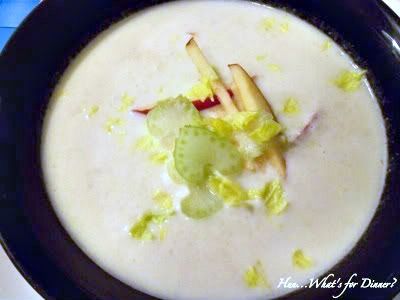 I found this recipe in my 50 Simple Slow Cooker Soups cookbook. I love that this cookbook is all about soup, that is prepared in the crock pot. I get to have one of my favourite meals, without all the fuss. On a recent trip to the Farmer's Market, one of the vendors was selling these HUGE celery roots. Never having eaten or cooked with it before, I decided to be adventurous and buy one. I really didn't know what to make with it, until I found this recipe. I knew that we would all enjoy it and was intrigued that the recipe suggested to garnish it with apple. This soup was so delicious and light. I used a red delicious apple and it added a nice fresh crispy touch to the subtle celery soup. The kids loved picking garnishes for their soup, which helped them enjoy it more than they would have without, LOL.
Celery Root Soup
Adapted from 50 Simple Soups for the Slow Cooker
printable version
2 Tbs butter, or ghee
3 medium leeks, sliced (white and light green parts only)
1 1/2 lbs celery root, peeled and cut into 1 inch pieces
5 C water
1 C half and half, or soy cream
salt
1 Granny Smith apple, unpeeled and cut into match sticks
1 celery rib, thinly sliced
1/3 cup inner celery leaves
In a large saute pan, melt the butter over medium heat and saute the leeks for about 10 minutes, or until lightly browned. Transfer the leeks to a 7-quart slow cooker and add the celery root and water. Cover and cook on LOW for 4-6 hrs, until the celery root is tender.
Add the half and half, then using a handheld immersion blender, puree the soup. Add the salt to taste. Cook for about 30 minutes longer, or until all the ingredients are hot.
Ladle the soup into bowls and top each bowl with a bit of apple, sliced celery rib and celery leaves.
This post linked to
Delicious Dishes
Hearth and Soul
See Ya in the Gumbo
Tasty Tuesday
What's Cooking Wednesday