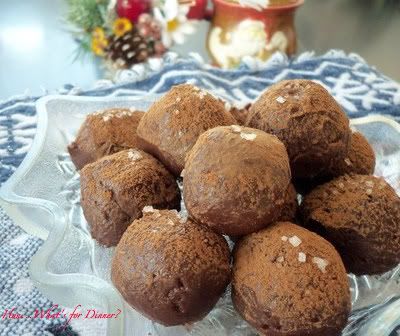 Truffles are one of my all time favourite treats, that I rarely splurge on. I just love the creamy chocolate, sprinkled with cocoa powder. On occasion, I buy them, around Christmas time, but this year I decided to make some. Since I'm trying not to over indulge this year, I tried to develop a recipes that would be a bit lighter than original truffles are. So, I ditched the heavy cream and subbed in some 95% fat free Cream Cheese. That, paired with quality 80% dark chocolate and some powdered sugar, to tame the tanginess; these are as good, if not better than your usual truffles.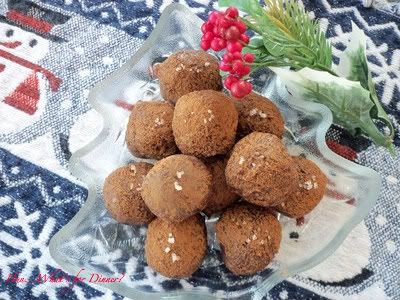 These truffles are a bit tangy, but not enough to make you say "Eewww". The addition of the powdered sugar rounds out the bitter dark chocolate and tangy cream cheese. Dusted with rich cocoa powder, I decided to add another layer of flavour by lightly sprinkling the tops with a bit of coarse sea salt.

Easy Chocolate Truffles
printable version
1 container of 95% fat free Philadelphia Cream Cheese, at room temperature
1 1/2 C 80% cocoa dark chocolate, melted
3/4 C powdered sugar
cocoa powder
coarse sea salt
In a bowl beat the cream cheese and powdered sugar, until fluffy. Add in the melted chocolate and mix until completely combined. Cover and refrigerate for several hours, until stiff. With damp hands, take small amounts of ganache and roll into balls; rinsing hands when too sticky.. Place rolled ganache onto a parchment lined baking sheet. Using a fine mesh strainer, dust the tops of the truffles with cocoa powder. Sprinkle a tiny pinch of sea salt, onto each truffle. Store in an air tight container and refrigerate for up to one week. Can be frozen for up to 3 weeks.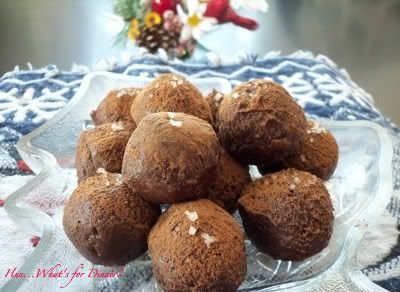 This post linked to
Friday Favorites
Foodie Friday
Sweets for a Saturday