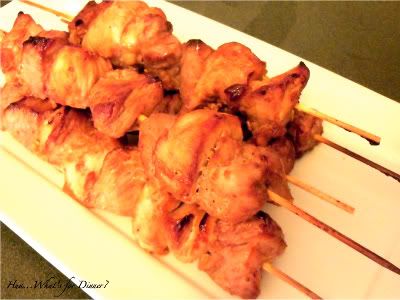 With the Holidays among us, I know that many of us are trying to watch what we are eating, so we don't gain excess fluff, from all the yummy goodies that come with this time of year. I recently heard about
Skinny Taste
, from some friends and decided to check it out. That's where I found these skewers. I'm always looking for new things to do with Country Style Ribs and this one sounded delicious. I love the combination of flavours in the marinade, so I decided to give them a try.
The meat ends up so tender, from marinating so long; and it's jam packed with flavour as well. A combination of sweet and savoury. The kids really enjoyed this one and there wasn't a skewer left, at the end of our meal. I served it some brown rice, tossed with green onion and pineapple. Perfect! I did end up baking these in the oven, since it was too cold to grill outside (I'm a wimp!).
Filipino BBQ Pork Skewers
Adapted from Gina's Weight Watcher Recipes
Servings:
about 16 skewers
•
Serving Size:
4 oz
•
Points:
4 pts
2.5 lb pork country style ribs, all fat trimmed, cut into 1" x 1" cubes

For the marinade:
6 oz 7-up
1/2 cup soy sauce
1/2 cup white vinegar
1 lemon, juice of
1/3 cup brown sugar
6 cloves garlic, crushed
1 tsp black pepper
crushed red pepper flakes (optional)
Mix
all ingredients in a large non-reactive bowl and
marinate
the meat overnight.
If using wooden skewers,
soak
in water at least an hour so they don't burn on the grill.
Thread
the meat onto skewers and grill. Discard unused marinade. Enjoy!!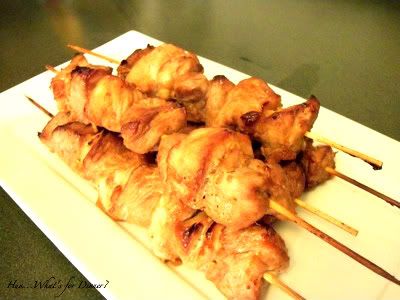 ~~~~~~~~~~~~~~~~~~~~~~~~~~~~~~~~~~~~~~~~~~~
Now for the winner of my 1000 Facebook Follower Giveaway. Firstly, I wanted to say a big Thank You to everyone who entered, tweeted and share my giveaway on Facebook! It has been my most successful one to date!
I used a random number generator to determine the winner and the number that was chosen is.....
Congratulations to Belinda M!!!