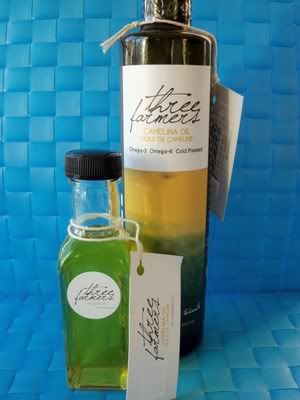 It's the month of December, so you know what that means.... it's the time for giving! A few weeks ago, I was approached by the Three Farmers, about whether I'd be interested in trying out their Camelina oil. I was immediately on board, since Camelina oil has only been on the market in Canada since Dec 2010. So what's so special about this oil? First of all, it is made and distributed right here in Canada! It's beautiful yellow colour will draw you right too it. It is made from Camelina seeds, which are a member of the mustard family; hence the nice yellow colour. It has a very distinct and wonderful flavour- almost nutty, with a hint of fresh asparagus. And the part I love best is that it's traceable! That means that every bottle made can be traced right back to the exact farmer who grew the seeds. There are only
3 Farmers
growing Camelina in Canada, which also makes this a unique product. Not to mention, this oil
has a high smoke point, which makes if perfect for frying
it contains Omega-3, Omega-6 and vitamin E
it is cold pressed, which gives the beautiful yellow hue and nutty flavour
it does not congeal when refrigerated
I've been using this oil for a few weeks now, if a variety of ways. Today I'd like to share a recipe in which I think this oil shines. Used in this rice pilaf, it complimented the lemon and thyme flavours, without getting lost or overpowering them; like other oils might.
Lemon Thyme Rice Pilaf
printable version
2 Tbs Camelina oil
1/2 small onion, chopped
1 large clove of garlic, minced
1 1/2 C raw white rice
1/2 tsp fresh thyme leaves
3 C chicken stock
1/4 C lemon juice
1 tsp lemon zest
1 pinch of sea salt and fresh ground pepper
In a medium sized pot heat the oil, over medium heat, and add the onion and garlic. Season with salt and pepper and cook until translucent, about 2-3 minutes. Add the rice and cook until golden brown, stirring frequently. Add the stock and thyme, and bring to a boil. Reduce heat, cover and simmer until rice is tender, about 20 minutes. Fluff with a fork and serve.
So how would you like to win a large bottle of this wonderful oil? The generous people at Three Farmers have generously offered to give one of my Canadian readers a 500 ml bottle of Three Farmers Camelina Oil. All you have to do is follow my blog (here or on Facebook) and leave me a comment (here on this blog) telling me what you would like to make with this fabulous oil. I'll select a winner on Dec 19th. Good Luck!!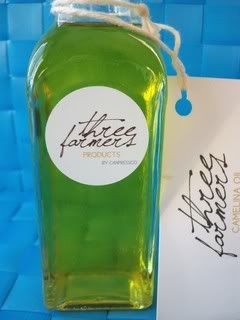 This post linked to
Full Plate Thursday
These Chicks Cooked
Turning the Table Thursday