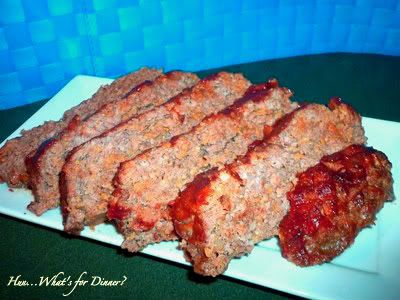 I don't know about you, but my kids came home with an obscene amount of Halloween candy. Especially Nacho flavoured Doritos. So, in hopes of using them up (that way the kids wouldn't be eating them until next Spring), I decided to make a meatloaf, using Doritos, instead of breadcrumbs. Boy was it delicious!! I was truly surprised at how much I enjoyed this meatloaf. I am not a big fan of ground beef, but Hubby and my nephew are always commenting on how good meatloaf would be. So I caved and finally made them one, LOL.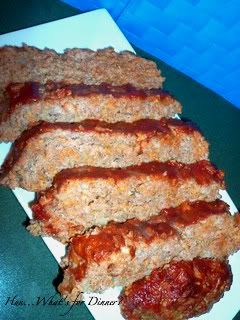 Am I ever glad I did, because this was sensational. The meat was so flavourful and tender. I especially loved the sweet BBQ sauce, that glazed the top. Everyone pretty much inhaled this and there wasn't but a few pieces left, even though I used 3lbs of ground beef! Needless to say, this will be going into permanent rotation, in our meal plan.
Nacho Cheese Dorito Meatloaf
printable version
3 lbs. ground beef
2 egg
1 small onion, chopped
1-1½ C Doritos, crushed
½ bottle ketchup (enough to moisten mixture)
1 tsp garlic powder
2 Tbsp. Worcestershire sauce
1/4 C barbecue sauce
With clean hands, mix all ingredients together, except barbecue sauce, in a large bowl. Transfer mixture to a 5x9 loaf pan, or rimmed baking sheet, and bake at 350 degrees for 45 minutes to 1 hour or until done. After about 35 minutes of baking, top loaf with barbecue sauce and return to oven to finish baking.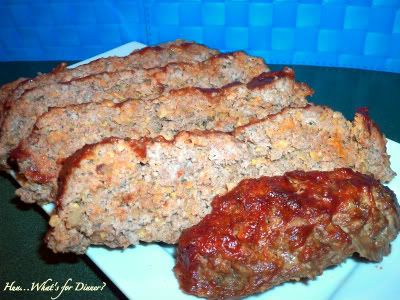 This post linked to
What's Cooking Wednesday
These Chicks Cooked
Full Plate Thursday
Turning the Table Thursday