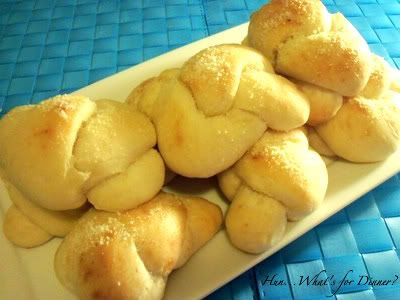 Since I shared a soup recipe with you, on Tuesday, I thought today I'd share a great accompaniment to soups. In my mind there is only on thing to serve with soup and that's some nice fresh bread. Whether it's rolls, a loaf of crusty bread, bread sticks, or biscuits; there's nothing better than a nice buttery piece of bread to sop up that yummy soup. So, you can bet you'll find some wonderful fresh baked goodness on our table, when it's soup night.
I love to surprise the kids with new bread shapes, for them to dip into their soups. Sometimes it's clover rolls, sometimes pull aparts; this time I decided on knots. These are super easy to make and only take about an hour from start to finish. I love to serve these with a nice Italian inspired soup, such as Pasta Fagioli, Italian Wedding soup or Minestrone. The addition of melted butter and Parmesan, while they are still hot, give these knots an amazing flavour and keep the crust nice and soft.
Parmesan Knots
printable version
1 1/2 C warm water
1 Tbs yeast
2 Tbs sugar
3 1/2 C flour
3/4 tsp salt
1/2 tsp garlic powder
1/3 C grated Parmesan cheese, plus some for sprinkling
3 Tbs butter, melted
Dissolve yeast in warm water. Add sugar and let it sit and bubble for a few minutes. To a bowl, add the flour, garlic powder, salt and Parmesan.Mix well. Add yeast mixture and knead for 3 minutes. Let the dough rest for 10 minutes. (I do all of this in my mixer)
Lightly spray a cookie sheet with cooking spray. Divide the dough in half, then divide each half into 8 pieces. Roll each piece of dough into a long 1/2-inch thick rope. Take both ends of the dough and wrap them as if tying a knot. Place on prepared baking sheets and brush with half of the melted butter.
Raise for 10-20 minutes. Preheat your oven to 375 and bake for 20 minutes, or until golden. Once you take them out of the oven, brush them with the remaining butter and sprinkle with extra Parmesan cheese.
This post linked to
See ya in the Gumbo
What Makes you say Mmmmm?
Hearth and Soul
Tasty Tuesday
Delicious Dishes
Bake with Bizzy