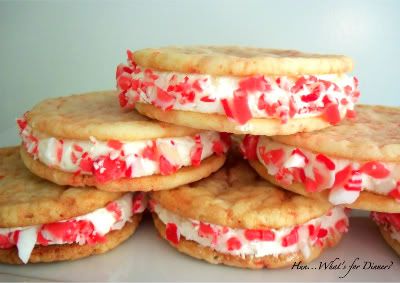 Can you believe it's Dec 3rd already?1? Christmas is only 22 days away!!! So, that means I've been in the kitchen experimenting with yummy Christmas treats. I plan of giving many gifts from my kitchen this year and am trying to compile a list of all the amazingly delicious, and beautiful recipes. It's been hard deciding if I go with some of my old favourites, or try new recipes this year. Since we will be spending Christmas with my Mom, she'll have tons of my old favourite desserts and treats. That means I have to come up with new stuff that will make them say YUM!!!
This recipes is a result of a few mistakes with a totally different recipe, LOL. First off, I've yet to find a method to crush peppermints/candy canes that doesn't result in me cursing under my breath, and vowing I will never make anything that requires them again. This year's attempt resulted in quite a bit of tiny peppermint dust and quite a few large chunks of peppermint. So, I tossed everything into a fine strainer and collected the dust in a separate bowl. Then, I fished out the pieces that would be way too big and was left with somewhat perfect peppermint pieces. Not wanting to waste, I decided to add the peppermint dust to the cookie dough. But I failed to notice an ingredient, listed in the directions of the recipe I meant to make, rather than in the ingredient list. That resulted in my cookies spreading too much and they came out pretty flat. That's when I decided to forget the intended recipe and turn these into sandwich cookies. These look so beautiful and taste pretty darn good too!
Peppermint stick Sandwich Cookies
printable version
1 tube refrigerated sugar cookie dough
1/4 C peppermint dust
1 C crushed peppermint candy
1 stick salted butter
1/4 C white chocolate chips, melted
3 C powdered sugar
1-2 Tbs light cream
In a large bowl, break up the cookie dough and gently knead in the peppermint dust. shape into a 1 1/2 inch round log, wrap in plastic wrap and place in freezer for about 30 minutes.
Preheat oven to 350 degrees.Once dough is firm, cut it into 24 equal slices. Place slices onto cookie sheets and bake for 8-10 minutes; until edges start to brown. Let cool on cookie sheet, before removing.
In a bowl cream the butter and melted chocolate, until light and fluffy. Add the powdered sugar, 1 C at a time, beating well after each addition. Once powdered sugar has been incorporated, add the cream, starting with 1 Tbs. Beat for 2-3 minutes, until frosting us super fluffy. If you find it is too thick, add remaining cream and beat until super fluffy. Transfer frosting to a large zip top bag. Cut off a hole at one end and squish all the frosting to that corner.
To assemble: Take 12 of the cookies and flip them over, so the bottoms are facing upward. Pipe equal amounts of frosting onto each cookie bottom. Place a second cookie, flat side down, over the frosting and evenly press gently, to disperse the frosting evenly to the edges of the cookies. Roll edges into crushed peppermints.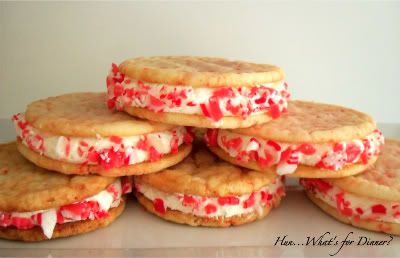 This recipe is being entered in EatInEatOut's 3rd Annual Christmas in July Cookie Contest
This post linked to
Bake with Bizzy
Foodie Friday
Friday Favorites
Sweets for a Saturday
Recipe of the Week
Things that Make you say:"Mmmmm"
Baker's Sunday
12 Days of Christmas Cookies