Good morning everyone!
I will not be posting a meal plan this week, since we will be leaving Wednesday afternoon, for my parent's house. I would however like to announce the winner of this truly wonderful
Canadian Camelina Oil
. There were 5 eligible entries and I used a random number generator. The winner is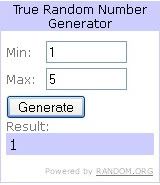 Remi Lefebvre
, who said
"I would love to use this oil to fry up some local Nova Scotian tofu! Mmm!"
Congratulations Remi and I will be getting in contact with you, to get your mailing info.
Thanks to everyone who took the time to enter my giveaway!!