Good Morning and Happy Monday. What a whirl wind weekend we've had. Hubby's Mom and sister came for a post birthday celebration; to celebrate Hubby and Mr.B's birthdays. Now we should be good until next month, when Queenie will turn 3. Time sure seems to be flying by.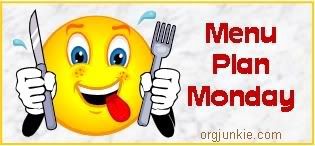 Speaking of time flying by, I can't believe Feb has come to an end already. I'm hoping this new month bring better times for our family. We finally purchased a new vehicle, but now have 2 car payments, so money will be tight. I'm glad we buy on sale and stock up, when we can. Due to not being able to finish my groceries, last week, I totally did not stick to my menu. So I'll be carrying some of those meals over, this week. So here's what's on the menu
Smokey Crock Pot Chicken Dinner (new recipe)
Beefy Noodles with peas
Porcupine Balls with a salad
Roast Beef with potatoes, carrots/rutabaga mash and peas
Smothered pork chops (new recipe) with smashed cauliflower and broccoli with cheese
Baked Lemon Spaghetti (new recipe) with Italian bread and a salad
Leftovers
Head on over to OrgJunkie.com, for more great meal plans.