Good morning!
Growing up, roasts were always a special occasion meal. Like when we had company, or for Sunday dinner. Since moving out, I understand why we never had roasts too often. They can be quite expensive. I recently lucked out and found some roasts on sale, so decided to splurge and buy one. Hubby and my nephew love beef. They'd eat it everyday. While I don't dislike steak and beef roasts, I'd rather eat chicken, or do a meatless meal, LOL. I figured I'd give the boys a treat.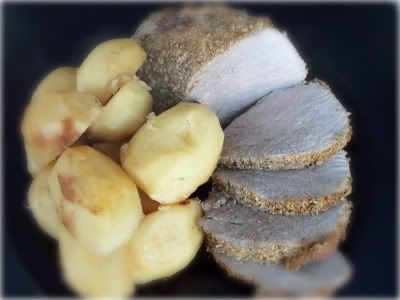 Since marrying Hubby, I've learned a lot about flavor combinations. Before then, if I would have cooked a roast, I would have seasoned it with plain salt and pepper. That's what I grew up on and my Mom's spice cabinet doesn't really go beyond cinnamon and cloves. So, now when I cook, I think about flavors I like and then think of whether they would pair nicely with what I'm making.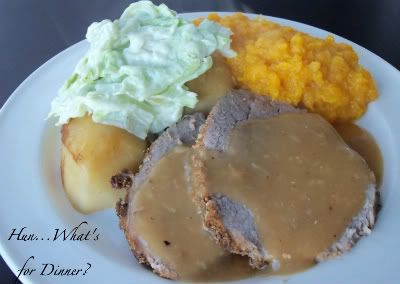 Which is what I did with this roast. I thought of flavors I enjoy with beef and threw them all together, to make a rub. A little bit of this, a little bit of that, became great flavors. Now that the beef would taste great, I had to make sure not to cook it to a dry shriveled unrecognizable piece of shoe leather. Not to insult my Mom, but that's what we grew up on..... Thankfully I cooked it to my preferred doneness, Medium Well. Hubby and my nephew would have to make due.
(I've still not been able to eat pink meat, let alone half cooked beef).
The roast was tender, the spices danced on your tongue, the gravy added a nice bite. Perfect dinner and an even better roast beef sandwich! The potatoes had taken on a slight beefy flavor, while cooking in the pan drippings. Growing up we use to eat our potatoes topped with lettuce which was mixed with mayonnaise. Not sure why, but that's how we like it, LOL. Feel free to eat the potatoes topped with gravy!
Roast Beef with Horseradish Gravy and Potatoes
1 3lb beef roast (I used an eye of round roast)
1 Tbs rosemary, crushed
1 tsp mustard seeds, crushed
1 tsp garlic powder
1/2 tsp paprika
3/4 tsp sea salt
1/2 tsp pepper
1 C beef stock/broth
2 Tbs horseradish
1 Tbs corn starch
6 large russet potatoes, peeled and cut into quarters
Place beef in roasting pan. With a mortar and pestle, grind the rosemary and mustard seeds. Add the garlic powder, paprika, salt and pepper. Rub roast with spice blend and let sit for 30 minutes, to take the chill off. Preheat oven to 350 degrees. Add 1 C water to the roasting pan, cover and place in the oven. For med-well beef, cook roast for 2 1/2-3 hrs (45-60 minutes, per pound), letting water and dripping evaporate. After 2 hrs, add 2 C of water to the pan, scrapping up any brown bits. Throw potatoes around the roast and turn them to coat with the liquid. Cover and continue cooking for 30 minutes to 1 hr; until potatoes are tender. Let roast rest for 20 minutes before slicing.
In a small sauce pot, take any roast dripping and beef broth and bring them to a boil. Mix cornstarch with a touch of water, to make a slurry. Remove broth from heat and whisk in cornstarch mixture. Return to a low heat and simmer, whisking occasionally, until thickened. Add horseradish and warm through. Serve gravy over sliced beef and potatoes.
Tip: If you don't have a mortar and pestle, you can whiz the rosemary and mustard seeds in a small coffee grinder. (Just remember to clean it later, LOL)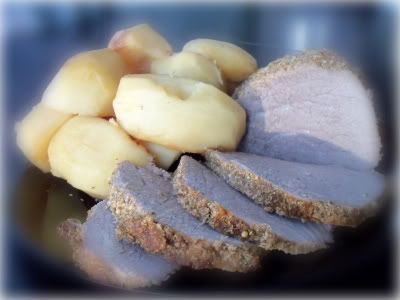 This post linked to