This is another wonderful recipe from Rachael Ray's Look & Cook, cookbook. So far, each and every recipe I've tried from this book, has been great. Full of flavor, quick and not too involved. Right up my alley.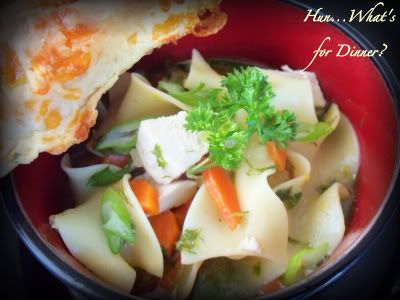 I made this last month, when we were brutally slapped in the face with the fact that Spring was no where near ready to make and appearance. Cold, miserable and just in need of fresh light flavors, I made this soup. All I can say is that it is the best chicken soup, I've ever had.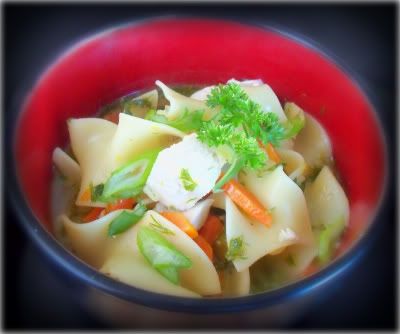 The flavors were so wonderful, so bright, so Spring-like. The lemon really brings this plain ole chicken soup to another level. The fresh dill and parsley, just intensify the bright light broth. This soup was loved by the whole family, but by me the most. I claimed any leftovers for lunch the next day!
Spring Chicken Soup
Adapted from Rachael Ray Look & Cook
printable version
2 pieces skinless, boneless chicken breast
2 onions, 1 halved and 1 chopped
2 cloves garlic, crushed
1 bay leaf
2 tablespoons extra-virgin olive oil (EVOO)
3 carrots, chopped or thinly sliced
4 small ribs celery, finely chopped
Salt and pepper
One 32-ounce container (4 cups) chicken broth
1/3 pound wide egg noodles
4 scallions, thinly sliced on an angle
1/4 cup finely chopped flat-leaf parsley
1/4 cup fresh dill, chopped
Zest and juice of 1 lemon
In a large saucepan, combine the chicken, halved onion, garlic, bay leaf and enough water to cover. Bring to a boil, then lower the heat and simmer gently until the chicken is cooked through, 15 to 20 minutes.
While the chicken is cooking, in a soup pot or Dutch oven, heat the EVOO, 2 turns of the pan, over medium heat. Add the chopped onion, carrots and celery; season with salt and pepper. Cover the pot and cook until the vegetables are softened, about 8 minutes.
Add the chicken broth and bring to a boil. Remove poached chicken from liquide and add about 2 C of poaching liquids, poured through a strainer, to the soup pot. Dice the poached chicken and add to the soup. Stir in the egg noodles and cook until al dente, about 5 minutes. Turn off the heat and stir in the scallions, parsley, dill and lemon peel and juice. Season with salt and pepper.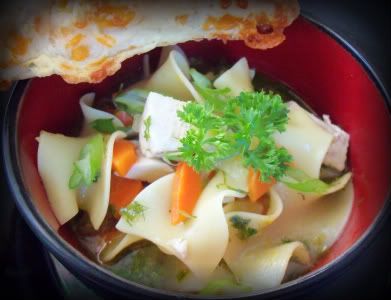 This post linked to