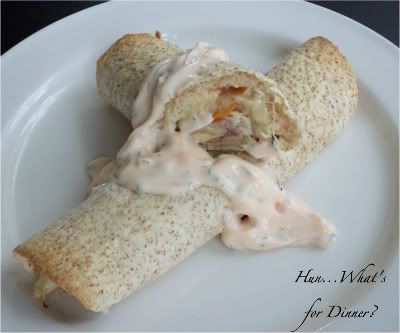 Being focused, or maybe I should say obsessed, with Philly for the past 7 weeks, I haven't really been trying any new recipes. One night, after filming, editing and submitting a recipe for the contest, I realized that I still needed to make dinner. I had remembered seeing these, on Cooking for your Family and quickly looked them up. I was pleased to see how simple they were to make, since I was mentally exhausted from working on the video all day.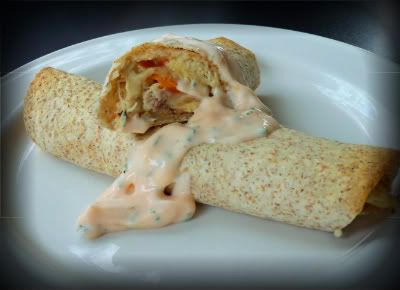 The taquitos were delicious. A bit bland, since I only used Monterey Jack cheese, instead of Pepper Jack. The kids are still very picky about spicy foods. But, that was nothing a little chipotle sour cream couldn't fix, LOL. I used leftover roast chicken, that I had in the fridge. I simmered it with a bit of lime juice, cumin and half a tsp of liquid smoke. Then I threw in the roast red peppers and filled the whole wheat tortillas with chicken and cheese. I served the adult portions with a generous dollop of spicy sour cream. The flavors were really delicious and the cheese made everything nice and creamy. This is a great quick weeknight dinner!
Chicken and Pepper Jack Taquitos
Submitted by Michelle adapted from Robin Miller/FoodNetwork
2 teaspoons olive oil
1 pound boneless, skinless chicken breasts, cut into 1-inch pieces
1/2 cup chopped roasted red peppers, drained (from water-packed jar) --I used a preroasted pepper I had in the freezer
1 teaspoon liquid smoke --thought 1 tsp was slightly too much
8 (6-inch) corn tortillas --I used flour, corn tortillas usually crack for me
1 1/3 cups shredded pepper jack cheese
Preheat oven to 400 degrees F.
Heat oil in a large skillet over medium heat. Add chicken and saute 5 minutes, until browned on all sides. Add roasted red peppers and liquid smoke and cook 1 minute to heat through. Arrange tortillas on a flat surface. Top each tortilla with an equal amount of chicken mixture, to within 1/4-inch of the edges. Top chicken mixture with cheese. Roll up tortillas and place on a baking sheet. Spray with cooking spray (I skipped this) and bake 8-10 minutes, until cheese melts.
Cindy's notes:
Since I did not use Pepper Jack cheese, I served the taquitos with a spicy sour cream which consisted of, sour cream, adobo sauce ( from canned Chipotles) and fresh chopped cilantro.