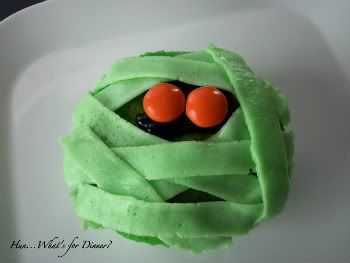 With Halloween only 34 days away, I've been seeing Halloween themed desserts everywhere. I happen to see these in a magazine, at my Dr's office. I can't recall the name of the magazine, but as soon as I saw them, I knew I had to make them. We simply LOVE Halloween here. Hubby is more into the gruesome part of Halloween, while I'm into the cutesy fun part. So, I get to do the cutesy stuff inside the house, and Hubby takes care of the dark and macabre outside. While I enjoy his severed head and body parts, I enjoy my cutesy cupcakes even more, LOL.
These are really just a technique and they are super simple. Well, if you're not an A type personality, they are simple. At first I was thinking the bandages too much and ended up with a cupcake covered with too many frosting bandages. After some constructive criticism from my nephew, we decided less was best. The kids just went nuts over these and I just had to share with my neighbours, who are still raving about them today. These are so cute, they could make just about anyone anxious for Halloween!
Mummy Cupcakes
printable version
1 box French Vanilla cake mix
2 eggs
1 1/4 C water
1/3 vegetable oil
green food color gel
48 M&Ms
1/4 C chocolate chips, melted
1/4 C salted butter
2 C powdered sugar
1-2 Tbs half and half
Mix cake mix with eggs, water and oil. Prepare to package directions; adding desired amount of green food gel. Pour into 24 paper lined muffin cups. Cool completely.
In a bowl, cream butter. Slowly add in powdered sugar, a tiny bit of the food gel and half and half, until the frosting is light and fluffy. Fill a piping bag, that has been fitted with a #45 tip.
Take cooled cupcakes and spread a small amount of melted chocolate, to attach the eyes. Place 2 M&Ms for eyes. Randomly pipe strips of buttercream over top of cupcakes, to resemble bandages (leaving spaces seems to look more authentic, than too many bandages).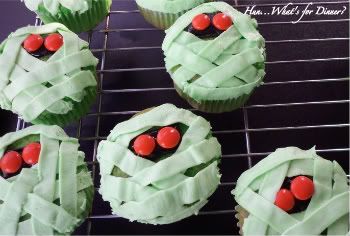 This post linked to
Make a Food-"e"-Friend Monday
Cucake Tuesday
Delicious Dishes
Tasty Tuesday
These Chicks Cooked
What's Cooking Wednesday