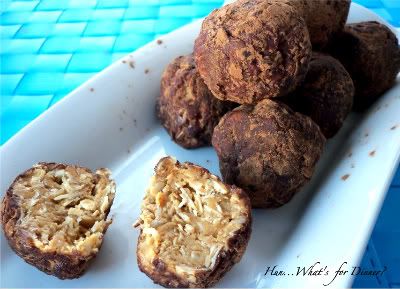 Part of my healthy eating plan is to seriously cut down on sweets and dessert. The thing is, I find that most nights (especially after dinner) I crave a little something sweet. And if I don't get it, sometimes it's not pretty.
Like exorcist, not pretty...
It makes me feel like a failure, to crave sugar and let it affect my moods the way it does. So, I've been trying to find and think of healthy sweet treat recipes, that I could enjoy in moderation. I saw a recipe for Healthy PB Balls on Pinterest and altered it to suit my likes and what I had on hand. The result are phenomenal and I don't feel guilty indulging after dinner. Right out of the freezer, these little balls of goodness are fantastic.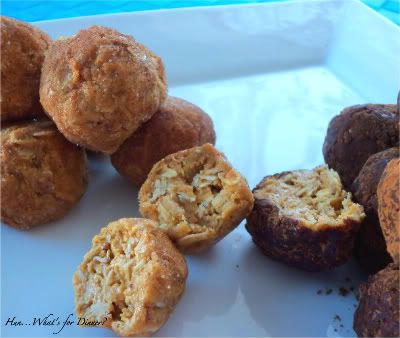 These are not as creamy and smooth as your typical Peanut Butter Balls. These are studded with crunchy oats, wheat germ and flax meal. I find I like all these fillers, because I actually have to chew something, which makes me take longer to eat them, and I get to savour and enjoy them better. I decided to coat a few with cinnamon sugar and a few with cocoa powder. I prefer the cocoa powder covered ones when they are frozen and the cinnamon sugar ones at room temperature.
Yes, I know..... I'm weird.
This is going to be a staple in our house from now on. Even the kids love them and I it makes me happy that they are eating something that is super good for them, without complaining.
Healthy Peanut Butter Balls
printable version
1 C light creamy peanut butter (natural peanut butter would be great as well)
2 Tbs honey
3/4 C large flake rolled oats
1 tsp wheat germ
1 tsp flax meal
2 tsp sweetened shredded coconut, toasted
cocoa powder and/or cinnamon sugar, to coat
In a bowl, mix together the peanut butter and honey, until well combined. In a separate bowl, combine the oats, wheat germ, flax meal and coconut, mixing well. Pour the dry ingredients into the peanut butter mixture and mix until well combined. The mixture will be dry at first, but keep mixing, it will combine into a smooth mixture. Spoon heaping table spoonfuls out and form into a ball. At this point you can roll the balls into the cocoa powder, or cinnamon sugar. If desired leave plain.
Cindy's notes:
I find these are more firm if left in the freezer. You can eat them straight from the freezer, no need to thaw.
This post linked to
Hearth and Soul
Things that Make you say: Mmmmm!
Delicious Dishes
Tasty Tuesday
See ya in the Gumbo
EMM: Church Supper
Fit and Fabulous Fridays