Happy New Year everyone!!
I just can't believe how quickly the last year has passed. I wonder if 2012 will be as adventurous for us, as was 2011. To celebrate the New Year this morning, I decided to treat Hubby and I with a special breakfast. This past Christmas, we had brought a bottle of Irish Cream to add to our coffee on Christmas day. Everyone forgot about it, so back home it came. While talking about it with my Mom, I came up with the idea of making Irish Cream Rocky Road Pancakes. But this morning as I was preparing to make breakfast, I decided that pancakes wouldn't be able to stand up to the Rocky Road toppings. Waffles are heartier, so they wouldn't be overwhelmed by the chocolate, nuts and marshmallows.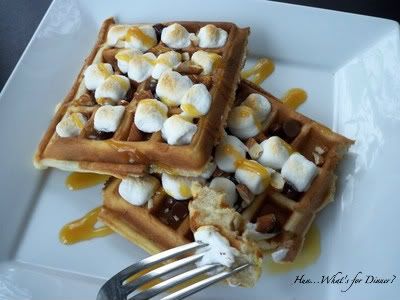 These were phenominal! I loved how the Irish Cream transformed into a creamy undertone and paired perfectly with the rocky road aspect of the waffles. These had just the perfect amount of sweetness, with the addition of the toppings. I did make a 'virgin' version for the kids, who really enjoyed having chocolate and marshmallows for breakfast. These could even be served as dessert, if sweets for breakfast isn't your thing.
Irish Cream Rocky Road Waffles
printable version
3 Tbs butter, melted
2 Tbs sugar
3 egg whites
2 C flour
3 tsp baking powder
1/2 tsp salt
1/4 C Irish Cream liquor
1/2- 3/4 C milk
1/3 almonds, chopped
chocolate chips
mini marshmallows
caramel sauce (option)
In a small skillet, toast almonds over low heat; 3-5 minutes (you will smell when they are ready). Set aside for later.
In a bowl, beat the egg whites and sugar until light and frothy. Add in melted butter and Irish Cream; mix well. Stir in flour, baking powder. Add milk, 1/4 C at a time, until a thick batter is formed (it should ressemble very thick pancake batter). Fold in 1/4 C of the toasted almonds.
Preheat your waffle iron. Once it is ready, spray grates with non stick cooking spray. Pour 1/3 C of batter onto hot grates. Close lid and cook for 5 minutes; until waffles are golden brown. Transfer waffles to a baking sheet and sprinkle with chocolate chips, mini marshmallows and remaining toasted almonds. Place under broiler for 2-3 minutes; until marshmallows start to brown. Serve with a drizzle of caramel sauce, if desired.