Happy Monday everyone!!
I'm in such a wonderful mood today. I had the opportunity to Skype with some of the great ladies I met during my journey through the Real Women of Philadelphia Canada contest. These are the best bunch of ladies, that I am so happy and proud to call my friends. We have all grown, by leaps and bounds with the confidence the contest gave us and have all celebrated small successes this year. It's great to have a great group of foodie friends to bounce ideas off of and to vent to, LOL.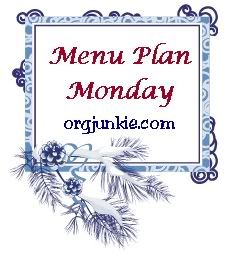 Well, my first week of healthy eating and exercise went well. I have to say that I feel wonderful and my moods have been constant and great, LOL. I still have tiny sugar cravings, but thanks to some friends who are also trying to be healthier, I've found great alternatives and recipes. Look for a few of them this week! I've yet to do an official grocery trip, but did pick up a few proteins this past weekend. So our menu will be simple, healthy and delicious (I hope). Here's our menu for the week
Pulled Pork sandwiches with a bean salad
baked pork taquitos, with spicy black beans
Spanish Potato and Green Olive soup (new recipe) with Honey Oat Bread
Homemade pizza (new recipe) with a salad
Omelets with fruit salad
Partridge fingers with oven fries/sweet potato fries and a salad (brought over from last week)
Leftovers
Head on over to
OrgJunkie.com
, for tons of other great meal plans!