Happy Monday and Happy New Year, once again!!
I'm still reeling from the fact that we are in 2012 already. The past year just flew by and makes me wish I had a pause button. But I am glad the new year is upon us. We have some pretty exciting milestones happening in the Jamieson household this year. First would be my 10th wedding anniversary. Yes, it's hard to believe that it's been 12 years since I met Hubby and 10 years since we got married. I just love how everyday seems new and that we still enjoy being together and love each other with so much passion. The second milestone will be Queenie starting school this Fall. She will be entering Junior Kindergarten and we are both really excited. I can't wait to see her blossom into an independent little lady. I'm sure I'll be in tears her first day, but I'm also anxious to get more time to focus on myself.
Which brings me to new things that will be happening here on Hun...What's for Dinner? My goal over the next few month, to a year, is to loose weight. I have a good 50+ lbs that I'd love to say good bye to, so you'll be seeing a lot of healthier, lower calorie meals. I'll still post some indulgent stuff, on occasion, but for the most part, I'll be focusing on healthier eating. We don't really eat un healthily, it's just what I get into, once the kids are in bed, that is getting me in trouble.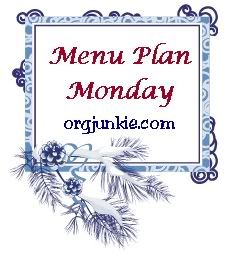 That being said, this week's menu will be quite interesting. I haven't done groceries since before Christmas, so I'll be using up what it in my freezer and pantry. I also roasted up a nice 15 lb turkey for New Years day, so I'll be using those leftovers this week. We plan on heading down to Buffalo NY, to visit Hubby's family, so I'm sure one of those days we'll be eating out. So,here is my plan for the week
Turkey Stir Fry
Quick Cassoulet (using leftover turkey)~new recipe
out with Hubby's family
baked partridge fingers with oven fries and peas
Ratatouille with Chickpeas, Naan bread
chicken and black bean enchiladas~ new recipe
leftovers
Head on over to
OrgJunkie.com
, for more great meal plans!!