Happy Monday!!
I should also say Happy Chinese New Year! That's right, today we start to celebrate the year of the dragon. Look for my post and our celebrations, coming up this week. Other than that we don't have much going on this week. Hubby is working, Mr.B is going to school and Queenie and I will do our thing at home. My healthier attempts at eating and exercising is going well. I'm really enjoying working out; a lot more than I thought I would, LOL. I still get horrible sugar cravings, but I'm hoping I can get passed those soon.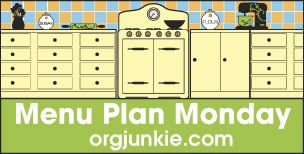 I have a few repeats in my menu this week. I kept forgetting to take my pork shoulder out of the freezer
(something I'm bad about remembering)
, so I'm hoping to get to that this week. Tonight, we'll be celebrating Chinese New Year with an amazing Asian inspired meal. I think I'm as excited, as the kids are, LOL. So, here is my plan for the week
(in no particular order)
Root beer Pulled Pork sandwiches, with bean salad
baked pork taquitos, with spicy black beans
braised chicken thighs, with couscous
Pasta with beef and rapini
Steamed Cod with Gingered Tomatoes and Spring Rolls with Hoisin Dip (Chinese New Year)
Minestrone with bread machine garlic bread
leftovers
Head on over to
OrgJunkie.com
, for tons more great meal plans!
~~~~~~~~~~~~~~~~~~~~~~~~~~~~~~~~~~~~~~~
Last night Kristen, from
Forkful of Comfort
, was awarded her first blog award. As a winner of this Versatile Blogger Award, she has to name some other bloggers she thought were also deserving of this award. She picked me as one of them and I couldn't be more thankful.
Now, it's time to name a few other bloggers, who I think deserve this too
Cravings of a Lunatic
Ms.EnPlace
The Kitchen Witch
Cooking with Libby
Everyday Mom Meals
Go on over and check them out!!!