Happy Monday!
I just wanted to start off by letting you all know that I'm the first guest poster over at
Infinite Life Fitness
. I was asked to share one of my favourite
healthy
recipes and I quickly knew which one I wanted to send. Thanks to my friend Lyndsay,
The Kitchen Witch
, for introducing me to such a wonderful recipe!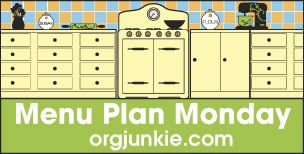 I've been exhausted for the past few days, and Hubby and Mr.B both have colds, so I'm not sure if it's just my body fighting hard not to catch what ever crud is going around. So, even though I'm posting a meal plan, I still reserve the right to flake out and not follow it, if I do end up sick, LOL. That and the fact that I have no idea if I'll actually make it to the store this week, is making this week's meal planning a wee bit stressful. So, here is the tentative plan for the week
Chicken soup/stew, using leftover roast chicken from Sunday night, with honey oat bread
Creamy Pistachio and Mango Chutney Pork Tenderloin (new recipe) with skinny au gratin potatoes
Perfect Fall Pork Chops (new recipe)
homemade pizza with tossed salad
Hubby's ribs with baked potato bar (broccoli, cheese, salsa, sour cream, chives, bacon, chili-toppers)
Easy Black Bean Veggie Casserole (new recipe)
Leftovers
Head on over to
OrgJunkie.com
, for tons of other great meal plans!!