Happy Monday!
The kids and I all caught the crud, a few days ago. It started with Queenie, last Thursday and snowballed from there. I think it has hit her the worst, and I'm planning of bringing her in to see the Dr, this afternoon. Her cough sounds too suspicious for me to just let it run it's course. My throat, which has been killing me, finally feels better today. It's a good thing, because we are back to school, after 2 weeks of winter break. I hope we get back into the routine quickly; I've grown accustomed to sleeping until 8:30.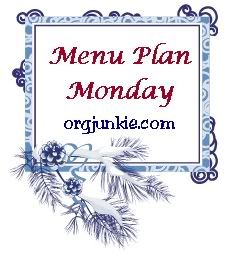 We ended up staying at my Mother in law's house last week and didn't return until late Friday night. So, I wasn't able to get to most of last week's meal plan. Since I've yet to do groceries, I'll just carry it over and add a few new dishes. I did find a Moose roast in the freezer and am hoping to make something with that. Here is what I have planned this week
Turkey Stir Fry
baked partridge fingers with oven fries and peas
Tacos with Tex Mex couscous (new recipe)
Ratatouille with Chickpeas, Naan bread
chicken and black bean enchiladas (new recipe)
Pancakes with fruit salad
leftovers
Head on over to
OrgJunkie.com
, for tons of other great meal plans!!