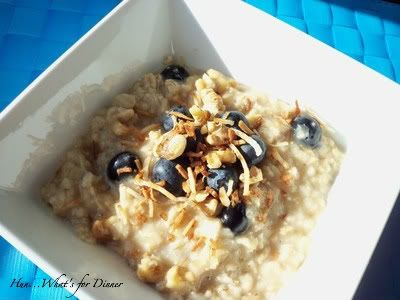 Last week, my friend Jeanine, from the
Baking Beauties,
asked me if I'd be interested in doing a six week diet and exercises program with her. I was already toying with the idea that I needed to buckle down and loose some weight, so I quickly agreed. Let's face it, you're more likely to succeed when there is someone there rooting you on, encouraging and suffering right along with you, LOL.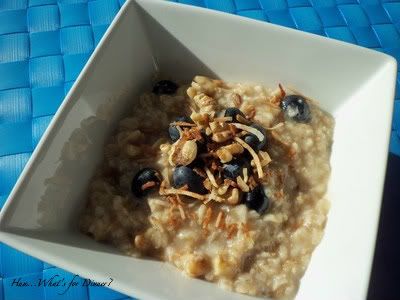 As part of my healthier eating, I decided to make some new yummy oatmeal recipes. I am not a big oatmeal fan. In the past, if I were to eat it, I would drown it with brown sugar. Knowing that there would be no way of loosing weight following my
bad oatmeal habit
, I played around with flavours and came up with this one. And I truly enjoyed it! I ate the whole bowl, without the thought of
"why am I doing this to myself"
playing through my head. The addition of vanilla makes the oatmeal taste sweeter, without the added sugar. I love the crunch of the toasted coconut and walnuts. The bursts of fresh blueberries just add a nice bright surprise. Now I'm actually excited about eating oatmeal, that isn't swimming in sugar!
Nutty Blueberry-Maple Oatmeal
printable version
2/3 C water
1/3 C large flake old fashion oats
1 Tbs maple syrup
1/4 tsp vanilla
1/4 C walnuts, chopped
2 tsp sweetened shredded coconut
1/4 C fresh blueberries
In a small pot heat water to a boil. Add oats, maple syrup and vanilla. Reduce heat and simmer until tender and thick; about 10-15 minutes.
Meanwhile, toast walnuts and coconut in a small skillet, over medium heat; until coconut is the same colour as the walnuts. Set aside.
When the oats are tender, add in the blueberries (saving a few to garnish) and most of the walnut/coconut mixture. Garnish with remaining blueberries and nuts.
1 serving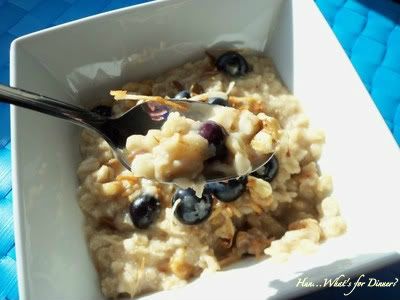 This post linked to
Delicious Dishes
See ya in the Gumbo!
Hearth and Soul
Tasty Tuesday
Things That Make you Say: Mmmmm