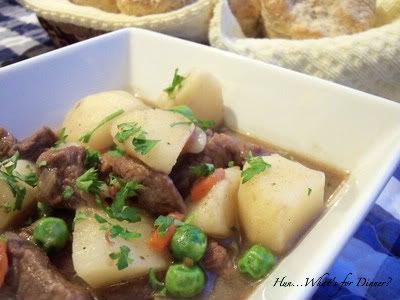 Have you ever loved eating something, but just never were able to make a really good version of it? That was the case with stew. I love stew! It's warm, comforting, hearty and perfect for those cold winter days. But, I've never been able to find a recipe that made me say
"oh yeah, THIS is stew!!"
. Well, I decided that I was going to go into the kitchen and make the perfect stew, even if we had to eat stew all winter. And, I think I've done it!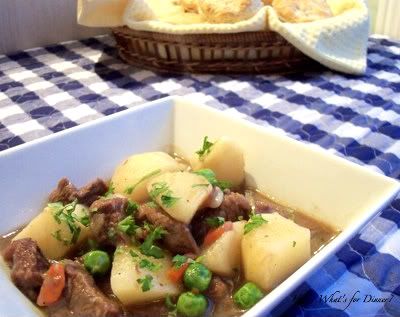 I really enjoyed this one. The beef melted in your mouth, the sauce was velvety, savoury, intoxicating. The kids ate this one with gumption and so did I. In fact it was so good, I hid the leftovers in the fridge, so I could have them for lunch the next day.
Don't tell hubby.... hiding beef is sacrilege, LOL
. I really think the addition of the red wine is what makes this stew. I normally don't cook with wine, since I've never really enjoyed drinking it, but this past year, I've ventured into the world of wine and have found a few that I'd actually enjoy drinking. So please, use a red wine that you would enjoy drinking, when making this stew!
Beef Stew
printable version
1 1/2 lbs lean stewing beef, cut into 1/2 inch pieces
1/2 C flour
1/2 tsp salt and pepper
oil, for searing the meat
3 small shallots, cut into thin wedges
1 carrot, chopped
1 rib celery, finely chopped
1/2 C red wine ( I used Cotes de Rhones)
2 C low fat, low sodium beef broth
1 C water
3 springs fresh thyme
2 bay leaves
salt and pepper
3 C potatoes, cut into 1 inch cubes
1 C frozen peas
1 Tbs cornstarch
1 Tbs water
In a dutch oven, or heavy bottomed pot, heat 2-3 Tbs oil (such as vegetable oil), over medium high heat. Before starting, using paper towels, pat the beef cubes dry. This will ensure a nice sear on the meat, and that melt in your mouth goodness. In a bowl, combine the flour and 1/2 tsp salt and pepper. Coat dried pieces of beef in the flour. Shaking of the excess flour, place the beef cubes into the hot pot; in a single layer. You may need to do this in batches. Let meat develop a nice brown crust, before turning the beef over to brown the second side; this will take 3-4 minutes. Place browned pieces of meat in a bowl and save for later.
Once all the meat is browned,reduce the heat to medium and add in shallots, carrot and celery; scraping up some of the brown bits at the bottom of the pot. Cook for 3 minutes, then add the red wine; once again scraping up the brown bits. Let wine cook down for 5 minutes and add the beef broth, water, thyme sprigs and bay leaves. Season with salt and pepper and bring to a boil. Reduce heat to simmer and add the beef back into the pot. Simmer, covered, over low heat for 2 hrs.
After 2 hrs, add in potatoes, cover and simmer for 30-40 minutes; until potatoes are tender. Add in peas, to warm through. If you'd like a thicker sauce, mix the cornstarch with water and slowly stir into the pot. Let simmer 5 minutes, to thicken, stirring occasionally. Remove thyme and bay, check for seasonings and serve.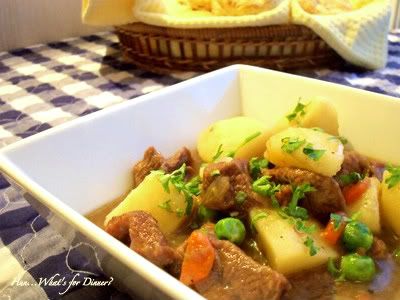 This post linked to
Full Plate Thursday
These Chicks Cooked
Fit and Fabulous Friday
Friday Favorites