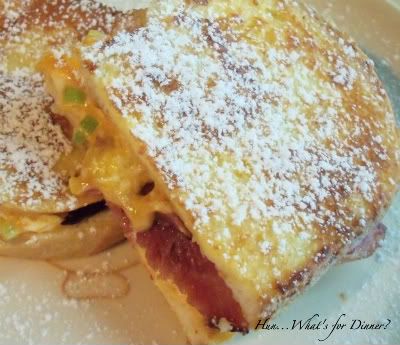 This past week, we all went to my Mother in law's to celebrate second Christmas. We spent a really nice time in Buffalo, visited Hubby's side of the family and had a few fun adventures. One of my gifts from my sister in law was a cookbook. A whole cookbook full of breakfast and brunch recipes. I was super excited and when I had the chance, I quickly looked through it, to decide what to make first. I decided to go with this recipe, because my mother in law had all the ingredients on hand.
This recipe is super easy. I love the simplicity of it, but the results are phenomenal. Creamy gooey cheese, slightly flavoured with green onion, pairs perfectly with the salty smoky ham. I wasn't sure about topping it with syrup or powdered sugar, but the sweetness added a nice balance to the savory french toast. This one is definitely a keeper and I'm sure we will be enjoying these on those special weekend mornings.

Stuffed Savory Ham & Cheese French Toast
Adapted from 500 Breakfast and Brunch Dishes
printable version
4 oz cream cheese, softened
1 C Cheddar cheese, shredded
2 scallions, finely chopped
salt and freshly ground pepper, to taste
4 slices of ham (preferably black forest)
8 thick slices day-old white bread
4 eggs
1/2 milk
few shakes of hot sauce, to taste
butter and vegetable oil, for cooking
powdered sugar and maple syrup, to serve
In a medium bowl, mix the cream cheese and Cheddar with the scallions. Season with salt and pepper. Spread 4 slices of bread generously with the filling, lay a slice of ham on top of each one, and top with the remaining bread slices, making 4 sandwiches.
In a shallow dish, whisk together the eggs, milk, salt, pepper, and hot sauce. Dip each sandwich in the batter, turning to coat both sides and allowing each side to soak up some of the batter. Do not soak too long or the sandwich will fall apart when you lift them.
In a large skillet, heat a little butter and vegetable oil. When it's good and hot, lay some sandwiches in the skillet and cool them to a rich brown. Turn and cook the other side. Keep warm while you make the rest. Serve immediately, with a sprinkling of powdered sugar and with maple syrup on the side.
Serves 4
This post linked to
These Chicks Cooked
Full Plate Thursday
Foodie Friday
Friday Favorites
Gooseberry Patch Recipe Round Up