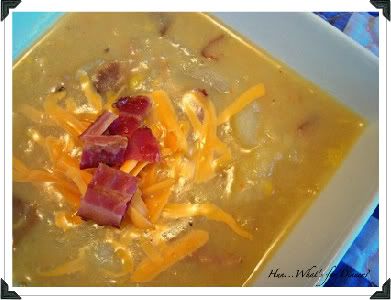 Last week, everyone was sick and Hubby had to get extensive dental work, so we pretty much lived on soup, LOL. That was fine with me though, since I love soup. There's just something about a nice warm bowl of goodness, perfect for dipping just about anything. Maybe my love of soup comes from growing up. Being Catholic, we didn't eat meat, on Fridays during lent. So, Mom was always making soup. Now some of the soups I do remember from our Lenten Friday dinners, send chills down my spine; and thankfully they didn't ruin my love for a good bowl of soup.
Some of the reasons I love soup, is that they are so easy to make. You can take the simplest ingredients and transform them into an amazing soup. Which is what I did with this chowder. Chowder is just like a thicker version of soup. Not quite stew, since there's more liquid, but like a thick soup. This chowder is so simple, you could have it on your table in just under 30 minutes.
Baked Potato and Corn Chowder with Bacon
printable version
3 tbs olive oil
1 small onion, chopped
1 large carrot, finely shredded
3 Tbs flour
5 C chicken stock
7 large baked potatoes, peeled and cut into cubes
1/2 tsp salt
1/2 tsp pepper
1 bay leaf
1 can cream corn
1/2 C fat free sour cream
1 C low fat milk
a few shakes of hot sauce
6 slices bacon, chopped
shredded Cheddar, for topping (if desired)
In a dutch oven, or heavy bottomed pot, heat the olive oil over medium heat. Add in onion, carrots and bay leaf and cook until onions are translucent; about 5 minutes. Sprinkle vegetables with flour, stirring to coat; cook for 2 minutes. Slowly add the chicken stock, stirring to ensure no lumps form. Add 2/3 of the potatoes, season with salt and pepper and bring to a boil. Simmer for 15 minutes.
Remove bay leaf and using an immersion blender, puree the potatoes into the soup, until smooth. Add in the cream corn, remaining potatoes, sour cream, milk, hot sauce and bacon. Cook to heat through. Serve with a sprinkle of Cheddar if desired.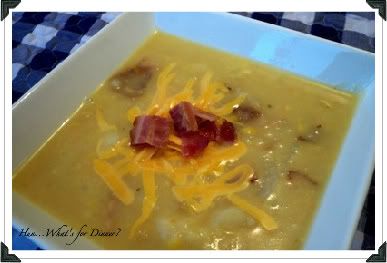 This post linked to
Hearth and Soul
Delicious Dishes
Tasty Tuesday
Things That Make you Say: Mmmm
See ya in the Gumbo
Church Supper