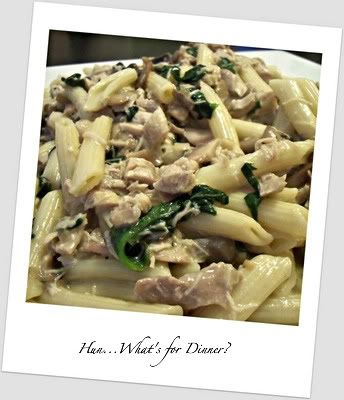 Ever have one of those days, where you're starving, but you just don't know what you want to make for dinner? This use to happen to me often, before the kids came around and I spent many a night alone at home (with Hubby at work). Back in the day I wouldn't have been guilty about having cereal for dinner.
Heck, I've even been known to break out the Haggen Daaz for dinner, a few times.
But now that I'm a mother and would like to raise healthy children, I can't really do that anymore. I want to instill good eating in my children, so that when they do move out on their own, they'll prefer to whip up a quick dinner, rather than break out the popcorn. Meal planning has helped me out greatly, but there are some nights when I look at the meals I had planned, and don't feel like making them. Or, weeks when I'm just too sick or exhausted to even want to sit down and think of meals for the week. This is when a well stocked pantry and fridge come in handy.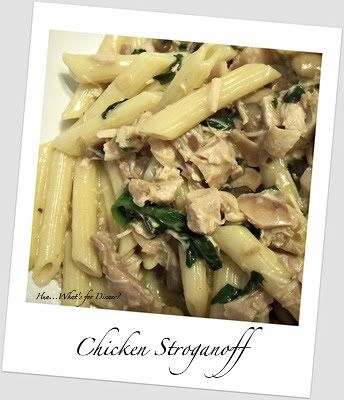 There it was, 3pm and I was leaving to pick Mr.B up from school. There was a little voice in the back of my head nagging me, because I had yet to decide what to make for dinner.
I usually make sure I decide in the morning, that way I can thaw meat and not have that nagging feeling all day.
While walking to school, I was taking a mental inventory of what I had in the fridge, pantry and freezer. I knew I had a some mushrooms and spinach that I definitely needed to use, before I had to toss them. So I immediately thought Stroganoff! Since we didn't have been in the freezer I went with chicken. Not your typical Stroganoff, I tried to lighten this up a bit, by using some fat free Greek yogurt, rather than sour cream. It worked wonderfully, we ate like kings
(and without complaint too!)
Chicken Stroganoff
1 lb boneless skinless chicken thighs, chopped into bite size pieces
2 Tbs olive oil
1 Tbs butter
1 C sliced mushrooms
1 small shallot, chopped
salt and pepper
2-3 sprigs of fresh thyme, stripped and chopped
2 C fresh spinach, chopped
2 Tbs flour
2 C low sodium chicken stock
1 C fat free plain Greek yogurt
1/2 lb penne pasta
Bring a large pot of water, to a boil. Salt liberally and add in penne. Reduce heat and cook to package directions.
Preheat olive oil and butter in a large skillet, over medium heat. Once butter starts to bubble, add in onion and mushrooms; cook until onions are translucent. Add in spinach and chicken, season with salt, pepper and thyme, and cook for 5 minutes; until chicken is cooked through. Sprinkle chicken and vegetables with flour, tossing to coat; cook for 3 minutes. Slowly add in chicken stock, stirring to ensure no lumps. Bring to a boil and simmer until thickened. Remove from heat and stir in Greek yogurt. Taste for seasonings and adjust to taste. Drain pasta and pour it into the chicken mixture. Toss to coat and serve.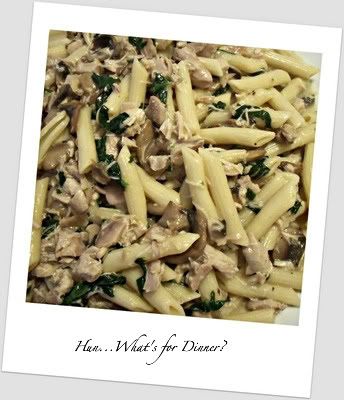 This post linked to
These Chicks Cooked
Full Plate Thursday
Foodie Friday
Friday Favorites
Fit and Fabulous Friday