Happy Pancake Tuesday, or Shrove Tuesday!
Shrove Tuesday is the day before Ash Wednesday, which is the beginning of Lent, for Catholics. Lent is the 40 days preceding Easter, which Catholics usually restrict guilty pleasures and try to eat simpler and leaner. So, since pancakes are made with sugar, fat, flour, eggs, which is traditionally restricted during lent; they have become to popular way to start off Lent. Since Lent is about giving up indulgences, I figured I'd give you all a pancake that would be worthy of Pancake Tuesday.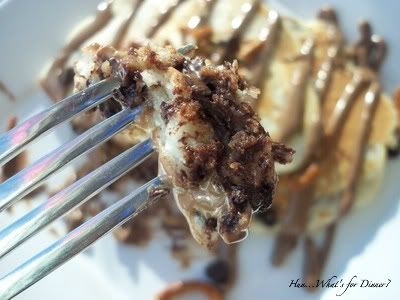 I recently made
chocolate chip pretzel bars
, which I LOVED, so I decided to incorporate those flavours into pancakes. I really loved the salty and sweet combo in these pancakes. Pancakes are VERY popular in this house, so it's nice to sometimes mix it up a bit. I wanted a peanut butter sauce, but didn't want it too salty, so I rounded it out with a bit of Nutella. These were awesome, fluffy, chocolaty with nice crunchy pretzel bits through out.
Chocolate Chip Pretzel Pancakes with Peanut Butter Nutella Sauce
printable version
1 egg
3 Tbs sugar
2 Tbs canola oil
1/4 tsp salt
2 C flour
3 tsp baking powder
1/2- 3/4 C milk
1/2 C semi sweet chocolate chips
1/3 C pretzels, broken into small bits
For Sauce:
1/4 C creamy peanut butter
2 Tbs Nutella
Preheat griddle pan over med low heat.
In a bowl, beat the egg with sugar, oil and salt; until well combined. Add in flour, baking powder and 1/2 C milk. Stir well, trying to get all lumps out and adding more milk, if too thick. Fold in chocolate chips and pretzels.
Spray griddle pan with cooking spray, or rub with a paper towel dipped in canola oil. Pour ladlefuls of batter and cook until bubbles start to form on the surface and edges begin to set; about 3-4 minutes. Flip and cook for 3 minutes more; until golden brown.
While pancakes are cooking, in a small bowl, heat peanut butter in the microwave for 30-40 seconds. Add in Nutella and stir until smooth. Drizzle over hot cooked pancakes.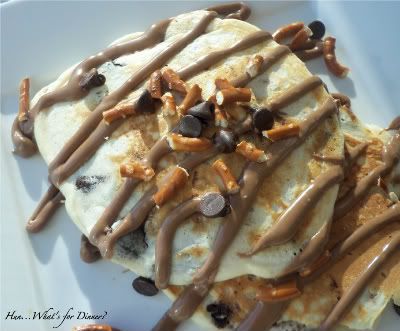 This post linked to
See ya in the Gumbo
Tasty Tuesday
Things that Make you Say: Mmmm
Delicious Dishes