Part of my healthier eating path, involves finding and creating sweet treats, that I could still enjoy, but that are a healthier alternative. Simply swapping out a few ingredients, sweetening with fresh fruit rather than sugar and adding some healthy whole wheat flour can sure make a big difference. If you use great flavours, it won't matter if it's healthy. When I came up with this recipe, I wanted to make something I would enjoy eating, using ingredients that were healthy and would taste great together. Strawberries, Bananas and Chocolate have always been perfect flavour combinations, so I knew they would make an amazing muffin.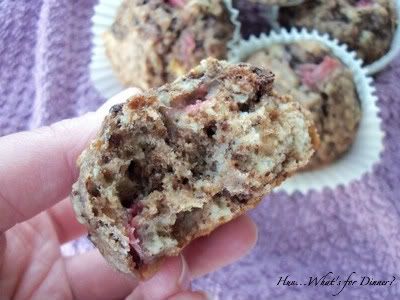 I know you are probably thinking, "how can chocolate be healthy". Yes, not all chocolate is healthy, but good quality dark chocolate, is very healthy. It is good for your heart and keeps your cardiovascular system running well. It can help reduce blood pressure and cholesterol. Not only does dark chocolate taste good, it stimulates endorphin production, which leaves you feeling great and it also contains serotonin, which acts like an anti depressant. Eaten in moderation, dark chocolate has great health benefits, so don't feel guilty indulging in a few pieces everyday. You should try to eat 80% dark chocolate or higher. It won't be as sweet as milk chocolate, but it's still as good!!
Chocolate, Strawberry and Banana Muffins
printable version
1/3 C natural strawberry sweetened apple sauce (no sugar added)
1/4 C honey
1 C dark chocolate 80% or higher, melted
2 egg whites
1 C whole wheat flour
1 C all purpose flour
1/2 tsp baking powder
1/2 tsp baking soda
1/2 tsp salt
3 medium bananas, mashed
1 C strawberries, diced
Preheat oven to 350 degrees.
I a medium bowl mix together the apple sauce, honey and melted chocolate, until well combined. Whisk in eggs and mix well. In a small bowl, mix the flours, baking powders, baking soda and salt. Add the dry ingredients to the wet ingredients, along with the bananas. Stir until just about combines. Add in strawberries and stir until just combined.
For muffins:
Line muffin tins with paper liners and spray them lightly with cooking spray. Using a 1/4 C measure, scoop batter into paper liners. Bake for 15-17 minutes; until a toothpick inserted in the middle, comes out clean.
For mini loaves:
Spray bottoms of mini loaf pans with a touch of cooking spray. Line bottoms with parchment paper and lightly spray the bottoms and sides of tins. Using a 1/3 C measure fill tins to half full. Bake for 15-20 minutes; until a toothpick inserted in the center comes out clean.
These can be stored in an air tight container for up to 5 days, or in the freezer for up to 3 weeks.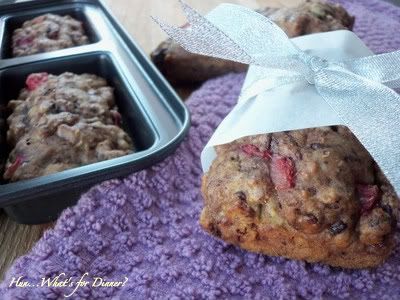 This post linked to
Fit and Fabulous Friday
Baking with Bizzy
Sweets for a Saturday