I often wonder if I'm the only one in the world, that seems to crave sweets. Especially when I'm trying to cut them out of my diet and become more conscious of the foods I fuel my body with. That's when I turn into a sugar addict, needing a hit. Most days there isn't a waking moment when I'm not thinking about cookies, cupcakes, muffins. Being a passionate baker doesn't help matters either. Baking relaxes me, eases the stress of my day and centers me back to myself. Great right?? Not when you're trying to drop a few pounds and eat more healthily. I mean all the best, most decadent and sinful desserts are loaded with butter and sugar.
That's why they're SO GOOD!!
It's been celebration central here, in the Jamieson household; with Super Bowl, Valentine's Day, Mr.B and Hubby's Birthdays. So, this whole month has been peppered with delicious indulgent foods. From wings to cheesecake, it has made an appearance in this house. Not very good for someone whole loves all things sweet. I will admit, I did indulge a few times, but not as much as I would have a few months ago. One cupcake is now enough, rather than one a day for 3 days. With all these sweets before me, I wanted something sweet that I wouldn't feel bad about eating and that would satisfy my sweet tooth as well as a big piece of chocolate cake.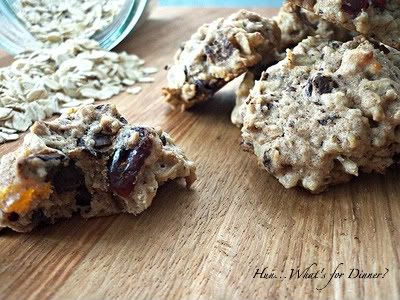 Years ago, when we lived in the U.S. I remember seeing Ellie Kreiger on the Food Network Channel. Her show was about healthy eating and since I wasn't in that frame of mind back then, I rarely (if ever) watched her show. I must have been meant to see her show, since today it is where I got this amazing cookie recipe. Most 'healthy' desserts I've tried in the past, have been less than great. They've been dense, dry and just plain boring. I was really doubtful of this one, since Ellie uses only whole wheat flour. I've never had luck using only whole wheat flour. I almost subbed in half white flour and half whole wheat, then changed my mind, telling myself to try it, before knocking it. I must say, these cookies are AWESOME. Even Hubby, who is the last person on earth to eat a 'healthy' dessert, thought these were great. He said they tasted like apple cinnamon oatmeal. I totally agree, but better. There's that nice rich dark chocolate in there and some sweet but tart cranberries and apricots. The kids even loved these, which hasn't been the case with previous 'healthy' cookies. So, if you're looking for something great, that won't leave you feeling guilty, give these a try!
Kitchen Sink Cookies
Adapted from Ellie Krieger and Food Network
printable version
2 tablespoons unsalted butter, softened
2 tablespoons canola oil
1/3 cup light brown sugar
1/4 cup applesauce
1 egg white
1 teaspoon vanilla
2/3 cup whole-wheat pastry flour
1/2 cup oatmeal
1/4 teaspoon salt
1/4 teaspoon ground cinnamon
1/4 cup chopped dried cranberries or cherries
1/4 cup chopped dried apricots
1/4 cup lightly toasted walnuts
2 ounces dark chocolate, cut into chunks
Cooking spray
Preheat oven to 375 degrees F.
Combine butter, oil and brown sugar in the bowl of a stand mixer and mix on high speed, stopping occasionally to scrape down bowl, until mixture is light and fluffy, about 2 minutes. Add applesauce, egg white and vanilla and mix to combine. Add flour, oatmeal, salt and cinnamon and mix just until just combined.
Add cherries, apricots, walnuts and chocolate and mix to combine.
Spray 1 baking sheet with cooking spray. Using 1 tablespoon cookie dough at a time, roll into balls and place 2-inches apart on baking sheet. Press cookies down with the palm of your hand to flatten slightly, as cookies will not spread as much as cookies with more butter. Bake for 12 to 14 minutes, or until lightly browned but still soft. Remove from oven and cool on racks.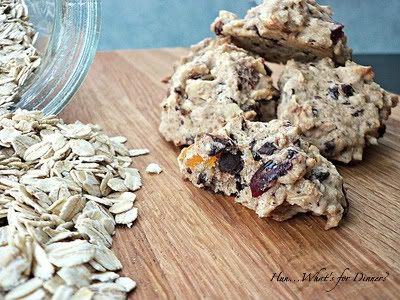 This post linked to
Baking with Bizzy
Fit and Fabulous Fridays
Sweets for a Saturday
Weekend Potluck
Sweet Indulgences Sunday
Church Supper