Good morning and Happy Monday!!
Boy, what a stressful week, last week. I've been having computer issues and Hubby has been trying to fix them, with no luck. I was stressing, since his laptop doesn't have an SD port and I didn't know how I would get my pictures off my camera card, to write blog posts. We've figured it out though and Hubby is being nice enough to let me use his laptop, when needed, LOL. The kids both have a cold and I think I'm catching it. Hopefully some extra vitamins, echinacea tea and exercise will keep it away.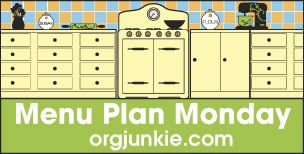 I didn't meal plan last week, because we were all under the weather. With the kids sick, they hardly eat, so I stuck to things I knew they liked. We ate a lot of soups, grilled cheese and hot dogs, LOL. Now that they are starting to feel better, I'm back at planning. This week won't be too extravagant. I'm trying to use what I have on hand, since we are due to shop until Friday. Here is what I have planned, in no particular order
Creamy Lemon Pepper Turkey Breast over rice (new recipe)
Countryside Chicken (new recipe)
Hamburgers with sweet potato fries
Balsamic Glazed Salmon (new recipe) with couscous
Salmon Patties with roast potatoes and a salad
Black Bean Veggie Bake
leftovers
Head on over to
OrgJunkie.com
, for tons of other great meal plans.