Happy Family Day Canadians! And Happy Presidents Day to our American neighbours!!
But, most importantly HAPPY 7th BIRTHDAY Mr. B!!!!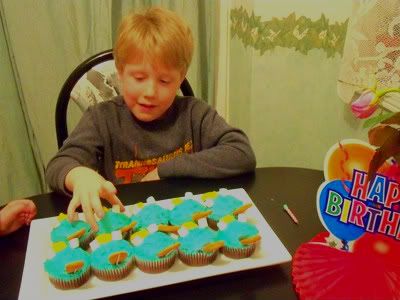 That's right, my baby boy is now 7 yrs old! I'm telling you, each year goes by faster and faster. Since Hubby is working today, we celebrated with pizza and Perry the Platypus cupcakes, last night. Mr.B's bowling party will be this Sunday, with some of his school friends and some of the in laws. Even though this past weekend was special, it was also peppered with stress and worry. Mr.B came home on Friday with hives. I suspect the new yogurt TUBES to be the culprit. The kids begged for the robot TUBES, which came in blueberry-lemon flavour and camu camu- vanilla. I suspect the camu camu is the culprit. We spent a good part of Sunday morning at the clinic, only to be told to let the hives run their course, keep administering Benedryl and calamine lotion for itch. JOY.....not!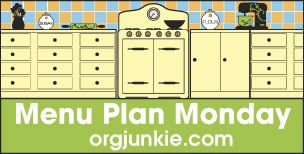 So, it's a holiday today and the rest of the week will be the same ole, same ole. I still need to finish grocery shopping, but I have a pretty good idea of what I'll be serving for dinner this week. I'm hoping my girlfriend can join us for dinner one night this week. So, here is the plan
Vegetable lasagna with garlic bread
Pork Slouvaki with Greek salad
Roast Chicken with roast potatoes ( white and sweet potatoes) and broccoli
Balsamic Glazed Salmon with couscous (brought over from last week)
Creamy Pistachio and Mango Chutney Pork Tenderloin (new recipe) with skinny au gratin potatoes
eating out, after bowling
leftovers
Don't forget to head over to
OrgJunkie.com
, to check out more yummy meal plans for the week!!